1. Allen's all about the Sabres
It may be the bye week, but Bills starting signal caller Josh Allen couldn't pass up the chance to support another area team. Showcasing his #OneBuffalo spirit, Allen paid a visit to the arena to watch the Sabres take on the Montreal Canadiens. The QB was spotted wearing a custom Sabres 50th season jersey and enjoying the views with Bills general manager Brandon Beane, among others. Taking notice of their attendance, the Sabres played the Bills anthem – "The Shout Song" – and welcomed them to the game.
Some of Allen's teammates, including hockey connoisseur Tre' White, took to social media to cheer on the Sabres too.
2. Home is where the heart is
Several Bills players, like Micah Hyde and Jordan Phillips, opted to head home during their football-free days. Back in his native Kansas, Phillips made his way to the Cedar Creek Farm & Pumpkin Patch in Wichita with his son. Capturing the adorable father-son bonding moment on his Instagram story, Phillips watched as his little guy soaked in the fall weather, while riding on a horse. Hyde, his wife Amanda and their lovable pup went west to San Diego to reunite with friends. Fellow defensive back Jordan Poyer also shipped out, trading in the Western New York foliage for the Sunshine State. Poyer, who showed off his fishing skills in an episode of "Buffalo Bills: Embedded" this summer, took advantage of the Florida weather, going fishing with a few friends.
During the outing, Poyer and his crew each made Instagram worthy catches.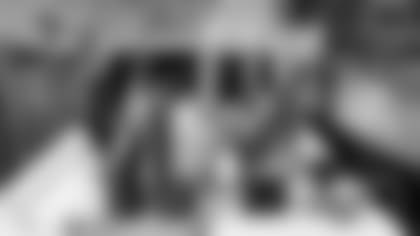 3. Ferguson's night out at the ballpark
Bills long snapper Reid Ferguson was among those who packed their bags for a bye week getaway. Headed to Houston, the special teamer had one thing on his mind – playoff baseball. In town to watch the Houston Astros play the Tampa Bay Rays in a critical Game 5, Ferguson kicked back and relaxed, making sure to document the experience, of course. In the end, it was the Astros, led by pitcher Gerrit Cole, who came away with the win. Ferguson, who had a perfect view of the action, was also pumped to be there for the victory.
4. Baby Boettger coming soon
Just a few weeks ago, Bills safety Micah Hyde and center Mitch Morse revealed that their families would soon be growing. The baby announcements just keep on coming for the Bills bunch, with offensive lineman Ike Boettger sharing the exciting news on his Instagram. Boettger and his wife Katie, who tied the knot last March, are expecting their own little bundle of joy in March 2020. With a big year ahead for Boettger, who just turned 25, there's a lot to celebrate this bye week.