1. Why "A Football Life: Thurman Thomas" is a must-see for Bills fans
For Bills Hall of Fame running back Thurman Thomas, this year has been one he'll never forget. One of the best players in Bills franchise history, Thomas added to his already impressive resume this season when his jersey number 34 was retired by the Bills forever. The emotional moment, which captivated Thomas, his family and thousands of Bills fans around the world, is just one of the many career milestones that is featured in the NFL Network's "A Football Life: Thurman Thomas."
The one-hour documentary, which debuts this Friday, Dec. 14 at 8 p.m. ET on the NFL Network, will take viewers on a journey with Thomas. From his college days at Oklahoma State to his Super Bowl years with the Bills, and everything in between, fans will get to know more about the Bills Legend through interviews with Thomas himself, his family members, Hall of Famer Barry Sanders, Marv Levy, Bill Polian and several of his former teammates.
Thomas, who got a first-look at the piece during a viewing party at (716) Food and Sport on Wednesday night, described the film as "spectacular."
"It was great. I loved it. I know with doing a film like that, you have to put in some of the lows…but I know it's part of my life and they have to talk about it," he said. "Overall, with my family being most of a part of it and my daughter at the end, it was absolutely spectacular and amazing."
For Thomas however, the best part of watching the show was that he got to share it with his friends, family and of course, Bills fans.
"It was pretty amazing because at the end there, after my daughter Annika started talking and after the film finished, and I said…, 'Buffalo is my home,' I looked around and saw a lot of tears," said Thomas. "I knew at that point, you know what, this is not only good for me, this is good for Buffalo…it was great."
2. Kim Pegula spends time with Bills fans
The Bills hosted their fourth and final installment of this year's Speaker Series last week and joining in the fun was Bills Owner & President, Kim Pegula. Emceed by Buffalo Sabres broadcaster Brian Duff, the event gave fans an opportunity to spend time getting to know Pegula and to ask her questions about the team and her role with the organization. Over 150 Bills Season Ticket and Club Seat Members took part in the event, making it one to remember.
For more information on the Buffalo Bills Speaker Series, please visit here.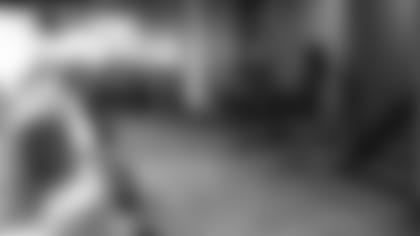 3. Bills support a good cause through first-ever cornhole tournament
The Bills hosted their first-ever cornhole tournament last weekend prior to the team's Week 14 game against the Jets. Fitting with the game's theme, "My Cause My Cleats," which gave players a chance to customize their footwear to showcase the charities that they're passionate about, the tournament also benefited a good cause – the Dystonia Medical Research Foundation. For each team that registered for the event, $10 was donated to the non-profit. In all, nearly 70 teams paid a visit to the ADPRO Sports Training Center to test their skills and show their support.
Prizes were awarded for the first, second and third place teams, with the first-place duo taking home $500 in Bills Bucks and a full-size LeSean McCoy autographed helmet.
Congratulations to the winners and thanks to everyone who participated!