Bills players are not the only ones at One Bills Drive with decorated careers on the field. Several coaches and members of the personnel department have made an impact on the game. So much so that one just found out he's being inducted into the College Football Hall of Fame.
Buffalo's director of player personnel Dan Morgan will be a member of the 2021 College Football Hall of Fame class. Morgan had a storied career at the University of Miami from 1997 to 2000. Morgan shared the following statement upon learning about this great honor and what he remembers about his playing days.
"Just all the hard work, all the sacrifice, all those two-a-days and basically all the work that you put in through college," Morgan said reflecting on his time at the U. "Just being rewarded with something like this, it's the pinnacle of what every college person wants to do is make the Hall of Fame. It's just a really cool honor and it's still sinking in in a way."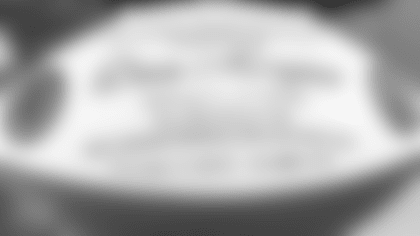 If you know Morgan, his humble presence won't give off his monster ways on the field. Don't worry, his colleagues love to talk him up.
Bills general manager Brandon Beane was working for the Carolina Panthers during the time that Morgan was getting ready to turn pro.
"This dude was sideline-to-sideline," Beane explained. "He's an animal. I remember that year, too. He got like every defensive award known to man. He was in the Big East because Miami wasn't in the ACC then. I know he was Defensive Player of the Year and then won the Nagurski Trophy, Butkus Award and Bednarik Award.
In his freshman season, Morgan totaled 105 tackles, 3.0 sacks and a forced fumble. He became a captain during his sophomore season, made the All-Big East team and totaled 150 tackles. As a junior, he racked up 139 tackles and five sacks. In his final season, he earned Big East Defensive Player of the Year and was a first-team All-American.
"He cleaned up, that's how good he was," said Beane about Morgan's college accolades. "And the crazy thing was, if you think of today, guys don't play four years and go get drafted in the first round very often. Most of the time these days, you play three years and you come out. Dan stayed all four years and we picked him just outside of the top 10."
Morgan finished his collegiate career with the Big East record for most career tackles with 532. In his final season, Miami went 11-1 and won the Sugar Bowl. Morgan was drafted 11th overall in the 2001 NFL Draft by the Carolina Panthers. When he reflects on those four years, the relationships and big games stick out the most.
"I just think experiences with teammates, developing relationships that I still have today with them," Morgan said. "And then just the big games, the big moments. We had a lot of them throughout my career down there so just to be able to have those memories, I think that's pretty special."
After a successful collegiate career as a fierce linebacker, Morgan played seven seasons with the Panthers. During the 2003 season, the Panthers made it to the Super Bowl. Morgan totaled 18 tackles in that game, which is the most combined tackles in a Super Bowl performance.
The now director of player personnel has been able to take much of what he learned from playing football into the scouting world.
"I think it's all helped me," Morgan said about his football career. "It's all part of who I am now, part of the experience. Just being a former player and kind of knowing what these guys, even in the building here at Buffalo, go through on a day-to-day basis. The feeling that they have waking up on game day. I've been able to experience all that, so I think it's pretty cool. It helps me with my job now. And obviously, I'm able to help them out too."
"I think he brings it, it's the team camaraderie," Beane shared. "Obviously, he was a captain and things like that. He's kind of one of my captains here. The neat thing is any time you have an ex-player, he can saddle up with somebody on your roster especially a linebacker, whether it's Tremaine [Edmunds] or a young player or if he sees something. Sometimes coaches haven't always played it and felt it, and sometimes he can just walk up to them and these guys respect him big time. 
"All of them may not know how good he was, but they definitely know he played, know he was a first round pick and was a really good player in this league. That brings a credence than me walking up to them telling them how they watch something or how they diagnose screens, pulls or anything like that is going to be different than when Dan Morgan does it. It's another reason you love to have a guy like that on your staff."
One thing Beane is still waiting to see from Morgan is his ability to be an emergency reserve linebacker.
"I've asked him a couple times when we've been beat up if he could give me like just a couple kickoff coverages," Beane said with a laugh. "He says he could probably play a half, but everything might lock up at halftime and he might not be able to go out for the second half."
"Yeah, I'll suit up," Morgan said. "Once I get into the game, I don't think that's going to go too well. I'll take the paychecks, that's for sure."
Even years after his playing days, Morgan is still getting asked to suit up. These are just the many things that happen to College Football Hall of Famers. Morgan will officially be inducted into the College Football Hall of Fame on December 7, 2021.