Brandon Beane is here to stay.
The Buffalo Bills announced a multi-year contract extension for Brandon Beane today. Beane is in his fourth season with Buffalo after being named the general manager on May 9, 2017.
Since arriving to Buffalo, Beane has helped create a winning culture and built a solid perennial playoff roster in a short amount of time. In his first three seasons, he has constructed two playoff rosters with a chance a chance to clinch a third this week at Bills Stadium. In 2019, he helped Buffalo earn its first 10-win season since 1999.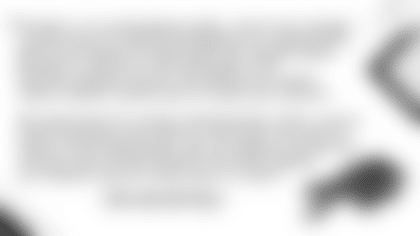 Bills owners Terry and Kim Pegula issued the following statement on the announcement.
"Brandon is an outstanding leader, and he has brought a great level of stability throughout our organization. One of the things we appreciate and respect about Brandon is that he is very thorough in his decision-making process. No decision he makes comes without a great deal of study and research. We appreciate his strong communication skills, and he works extremely well with us, with Sean and with all levels of the organization. We are happy to extend his contract and to have Brandon and Sean leading our football team for many years to come."
In Beane's first NFL Draft, he negotiated several trades that resulted in two first round picks while keeping all their 2019 draft capital. He drafted quarterback Josh Allen with the seventh overall pick and linebacker Tremaine Edmunds with the 16th overall pick. Allen, a draft pick that some were skeptical of, is having a season that stands out amongst other quarterbacks in his 2018 draft class. The three-time AFC Offensive Player of the Week ranks top 10 in passing yards, touchdowns, completion percentage, passer rating and more. Edmunds made it to the Pro Bowl in just his second season in 2019 and is known as one of the most talented young middle linebackers in the league.
In this year's draft, Beane traded Buffalo's first-round pick to the Minnesota Vikings for wide receiver Stefon Diggs who is currently tied for the league-lead with 90 receptions and has 1,037 receiving yards in 12 games. His fourth-round pick in wide receiver Gabriel Davis is playing at a level higher than his draft status with a team-high five receiving touchdowns and averaging 16.9 yards per catch – the second-most among rookie wide receivers.
Prior to coming to Buffalo, Beane spent 19 years with the Carolina Panthers in various roles and was the assistant general manager in his final season. Beane overlapped with McDermott in Carolina from 2011 to 2016. The two have built a positive culture in Buffalo that is desirable to free agents and rookies. They also changed a long-standing league-wide perception of the Bills for better. Their adopted mantra of drafting, developing and re-signing their own players has proved to already be successful. McDermott said he can't imagine having anyone else as GM.
"My view on Brandon hasn't changed since the day we first met," McDermott explained. "When I was around him in Carolina he always had a great way about him, in particular with people skills. Then to me, a great balance of the business and the operation and then also blending the football side, that's unique around the league.
"I think for most GMs to have that experience on the business side of the football end of things, I really can't envision myself working with anybody else but Brandon moving forward. For coaches, as I mentioned earlier, it's one thing to be a good coach and develop players. But if you're not being fed good players, it's almost like drinking from a from a dry hose. That's a hard thing to sustain over the course of time. So being fed good players, being fed players that match what we're looking for, Brandon has done a phenomenal job. I can't envision myself working with any other GM."