1 - Bowles: Josh Allen is a triple threat
Over the past two weeks, rookie quarterback Josh Allen has turned the NFL into his playground.
It's almost looked as though he can do whatever he wants, as the opposition simply can't stop him through the air or on the ground. Since returning from injury in Week 12, he has completed 26 passes for 391 yards and two touchdowns. He's also been dynamic in the run game, rushing for 234 yards and one score since his return.
Allen can throw to any part of the field with relative ease, and if no passing lanes open up, he's comfortable tucking the ball and taking off. The uncertainty of what Allen will do with the ball makes him a difficult player to defend, according to Jets head coach Todd Bowles.
"He's shown all three phases, as far as being great throwing in the pocket, being great throwing on the run, and then running the football instead," Bowles said. "He has kind of a triple threat deal going on right now, I think he's run for over 200 yards the past two weeks. And he can throw the deep ball, he can throw the out cuts, he can make all the throws and he can throw well on the run. You're seeing a lot of things he did in college."
Fans may see a battle between two of the brightest young quarterbacks in the league this Sunday, as Sam Darnold will make his highly-anticipated return. The rookie signal-caller, who has missed three consecutive games with a foot injury, was named the starter by coach Bowles on Thursday.
The fact that two rookie passers have already made great impacts for their respective teams is a testament to the strength of the 2018 quarterback class, according to Bowles.
"I thought it was a very good class," Bowles said. "I thought all four quarterbacks, even five with Lamar [Jackson], I thought they were all great quarterbacks in their own right and had different nuances. Obviously, you can't take them all. But all of them, I think, are going to be very good football players."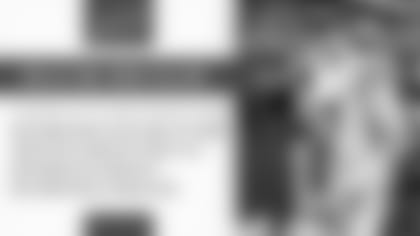 2 - McDermott on Darnold: The ability's there
Buffalo's Week 10 matchup with the Jets was one that many fans had circled on their calendars early in the 2018 offseason, as it was shaping up to be the first of many battles between Josh Allen and Sam Darnold.
Unfortunately, neither rookie played in the contest. Allen was sidelined with an elbow injury that he suffered in Week 6, and Darnold missed the game with a foot injury. Instead, Matt Barkley led the Bills to a 41-10 rout of the Josh McCown-led Jets.
It doesn't look as though fans are in for another Barkley-McCown classic, however, as both Allen and Darnold are ready to go for this Sunday. Allen has shined since returning in Week 12, and barring any setbacks, it looks as though Darnold will start for the Jets.
Buffalo head coach Sean McDermott talked about the difficulties that come with planning for a quarterback for the first time.
"He's a good quarterback," McDermott said. "Certainly the ability's there. As far as what's unique about it, I just think the unknown. We haven't really seen him yet. That's probably the unique part about it."
3 - PFF breaks down Allen's emergence
Don't look now, but rookie quarterback Josh Allen is currently playing at an elite level.
In fact, no quarterback has better than the 22-year-old over the past two weeks, according to Pro Football Focus. Since returning from injury in Week 12, Allen has earned an overall grade of 90.6 from the outlet, the highest grade among all quarterbacks.
Allen has made indisputable progress since returning from his elbow injury. He's seemingly more willing to showcase his arm strength than he was in the early part of the season, and while he still relies on his legs to get him out of trouble from time to time, he's making plays when he does decide to take off. Over the past two weeks, Allen has accounted for 625 yards of offense.
In light of Allen's emergence, PFF has released a seven-minute breakdown showcasing the rookie's recent emergence. Host Zac Robinson looks at all facets of Allen's development, from his improved decision making to playmaking ability.
If you'd like to take a closer look at Allen's solid play, you can do so at this link.