1 – How the Bills' young core is factoring into wins
Since taking the reins of the team in January 2017, Bills head coach Sean McDermott has infused some youth into Buffalo's roster.
Tre'Davious White, Tremaine Edmunds, and Josh Allen headline the list of franchise cornerstones that McDermott and company have brought over the past 19 months. McDermott has also proven that he has a terrific eye for talent, as Matt Milano and Taron Johnson, who were both day three selections in their respective drafts, have developed into key defensive starters for Buffalo.
The Bills hope that their young core will help them find consistent success a few years down the road. The team's budding superstars, however, are already helping the team win games now. Sean McDermott credited the team's Week 5 win over the Titans to their young playmakers.
"Once again we saw some young players factor into the win [Sunday], some of whom made big time contributions," McDermott said. "Matt Milano, Tre'Davious continues to play at a high level in just his second year. Dion (Dawkins) is out there playing at a high level and the rookies that stepped up yesterday. Taron Johnson having another big game for us, making another big play early in the game and Tremaine and Josh. There are some other guys not being mentioned every week. You look at the guys who were ready to play on Sunday. Guy that was called up from the practice squad in Dean Marlowe. Phillip Gaines came in and did a nice job. Credit to the staff and the players in that regard."
2 - Bill O'Brien praises toughness of Bills, Sean McDermott
Houston Texans head coach Bill O'Brien is familiar with the Buffalo Bills.
From 2007-2011, O'Brien was on the New England Patriots' coaching staff in a multitude of roles. Throughout his five years with the team, the Patriots were 9-1 against Buffalo.
However, O'Brien can't really look on his past success against the Bills while planning for Houston's Week 6 matchup against Buffalo. The Bills of today bear little resemblance to the Bills of the late aughts. A new ownership group, front office, coaching staff, and young core have turned Buffalo into one of the league's most interesting teams.
O'Brien respects the Bills' coaching staff led by second-year head coach Sean McDermott. He also has high praise for their aggressive defense and rookie quarterback.
"Very tough football team, much like their head coach," O'Brien said. "They compete. They've done a great job on defense of taking the ball away. They play very hard on defense, they do a lot of different things. Offensively, they've done a nice job of running the football, mixing that in. Bringing Josh Allen along, he's a very very talented young quarterback with a great arm. They've got some really good core guys on special teams that play fast and play well together. It's a big challenge for us."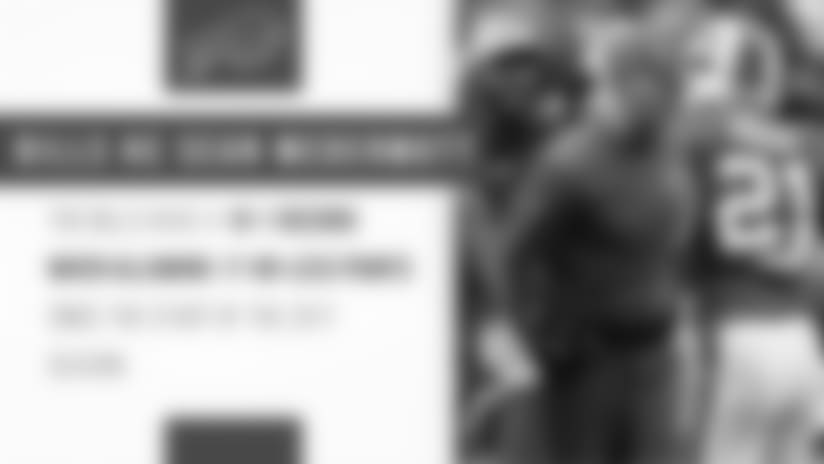 3 - Bills receive positive Week 5 grade from B/R
If you like old-fashioned, grind-it-out football, you probably loved the Bills' Week 5 win over the Titans.
It was a defensive battle that saw both teams finish with less than 225 net yards. Middle linebacker Tremaine Edmunds led the way for Buffalo on defense, finishing the contest with eight tackles, one pass deflection, and one forced fumble. Cornerback Tre'Davious White shined as well, shadowing Corey Davis in coverage and finishing the game with one tackle.
"This win was much uglier than the one the Buffalo Bills got against the Minnesota Vikings a couple of weeks ago, but it was still a win and a good reminder that Buffalo was a playoff team just last year. . .
". . . Buffalo can, however, lean on its defense, much like it did during last year's push to the postseason. It was the defense that kept Buffalo in the game long enough to get the last-second field goal and the second win of the season."
Knox was also impressed with White's performance in Week 5.
"By the way, Buffalo's Tre'Davious White is emerging as one of the most underrated young cornerbacks in the league. He's consistently shadowed the opposition's top receiver, and he did the same with Davis."
Knox gave the Bills a Week 5 grade of 'B.'