1 - McDermott breaks down four-game 'evaluation' period
Buffalo head coach Sean McDermott often talks about "earning the right" to play, and to the sideline boss, that process starts on the practice field. Throughout the 2018 season, McDermott has rewarded young players who have shown a strong work ethic in practice with regular season action.
Levi Wallace, Robert Foster, and Isaiah McKenzie come to mind when thinking about under-the-radar players who have taken advantage of their opportunities. Wallace and Foster spent the majority of the 2018 season on Buffalo's practice squad before being promoted in Week 10, and both have since carved out starting roles for themselves in the team's lineup.
McKenzie spent the first half of the 2018 campaign on Denver's practice squad before eventually being swooped up by Buffalo, and he, too, has impressed in limited action. The second-year wideout has made an impact on both offense and special teams in his three games as a Bill, totaling 273 yards on 25 total touches. That's good for 10.92 yards per touch.
More young players will likely receive the opportunity to make a similar impact throughout the final four games of the season. McDermott views the final stretch as an assessment period, a chance for the team's inexperienced players to prove that they should be foundational pieces on the roster.
"Yeah, the evaluation continues," McDermott said. "As you've already seen us do the last handful of weeks, we've brought up young players, whether it be (players who were) already active and giving them opportunities to play and show us what they've got, or brought young players up from the practice squad to take a look at some other players.
"Call it an audition, call it an evaluation, probably better said. It's a chance for us to continue to grow this football team and develop this football team."
2 - Groy not worried about timing with Allen
The Bills placed starting center Russell Bodine on injured reserve this week after the veteran underwent season-ending leg surgery on Monday.
Ryan Groy will take over as the anchor of Buffalo's offensive line for the remainder of the season. Groy, who won the team's starting center job out of camp, is excited to get back on the field, albeit under unfortunate circumstances.
"I feel for Russell," Groy said. "You don't want to see anybody go down like that. But yeah, no, it's a good opportunity. Glad I can come in here and help out and finish off the last four games."
Groy, who replaced Bodine after he went down in the first quarter of the Bills' Week 13 matchup with the Dolphins, has mainly served as a versatile plug-and-play lineman since being taken out of the starting lineup in Week 3. The 28-year-old has seen time at guard in addition to center this season.
Groy feels as though he should be able to transition back into the starting center role rather effortlessly, as he practiced with the first team to start the season. Groy has also continued to communicate with Josh Allen while playing as a reserve, something he hopes will help their timing.
"I think we'll be good," Groy said. "Obviously it's important, with communication and all that. I think we've, the last eight-to-10 weeks, we've all still been communicating and working back and forth. It'll be good."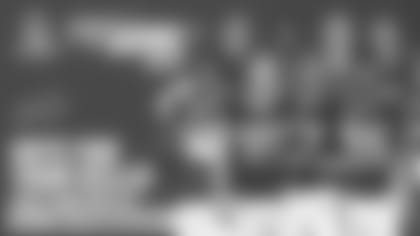 3 - Bills near the top of the NFL in deep passes attempted
Few things in professional football are more exciting to watch than a well-executed deep ball.
Buffalo fans have been fortunate enough to see quite a few beautiful bombs this season. According to ESPN, the Bills have attempted 66 deep balls, or passes that have traveled 20 or more yards through the air, in the 2018 season. Buffalo trails only Green Bay and Kansas City in number of deep passes attempted.
According to the outlet, the Bills have completed 24-percent of their deep passes. This relatively-low number can be partially attributed to the early season struggles of rookie quarterback Josh Allen and the receiving corps.
Since returning from injury in Week 12, Allen has put his highly-touted arm strength on display more frequently and efficiently. Over the past two weeks, 12 of his 26 completions have been for 15 or more yards.
With speedy receivers like Robert Foster, Isaiah McKenzie, and Deonte Thompson slated to receive more playing time as the season closes out, Allen's number of deep attempts will only increase.