---
---
It's safe to say that Rochester natives Jordan and Mackenzie Binggeli are not your typical newlyweds. On Sept. 29, 2019, 70,000 spectators watched in amazement as the longtime couple and passionate Bills fans tied the knot in just about the most unconventional way imaginable – during halftime on the 50-yard line of their favorite NFL team. To cap the surreal moment, they were surprised with yet another experience of a lifetime, when they were presented with tickets to Super Bowl LIV by Bills Owner and President Kim Pegula. As electrifying as their union, their recent trip to Miami served as the perfect "honeymoon" for the NFL enthusiasts and a thrilling next chapter in their developing love story. Filled with celebrity sightings, parasailing escapades and plenty of football, the excursion defied their expectations.
---
---
Thursday, Jan. 30: Gadgets, Gators & Gardner
After settling into their weekend residence in North Miami Beach, located near the stadium and only 10 miles from Miami, the Binggelis were ready to take advantage of everything the area had to offer. Cruising around in a convertible, determined to soak up the sunshine in their days away from wintry Western New York, they set out for the Everglades.
"Married life's been great," said Mackenzie reminiscing on the vacation. "I love traveling with him [Jordan], it's fun. It's just another little adventure. We plan things. We don't plan things. We kind of just go with the flow like usual and it's just spontaneous, which is fun."
Considering that their first stop entailed an airboat tour through the alligator inhabited wetlands, it wasn't hard for the pair to find the excitement they were seeking. After their knowledgeable guide navigated them around the scenic waterways, they got acquainted with the wildlife, taking turns holding a popular gator named "Larry."
What's more memorable than embracing a reptile species that's been on Earth for millions of years? Well, seeing the familiar face (and beard) of Jacksonville Jaguars signal caller Gardner Minshew in the process. On location for a film session, the second year QB made time to greet Jordan and Mackenzie.
Happy with their first day on the scene, they made the traffic heavy trek downtown to secure their golden tickets before calling it a night.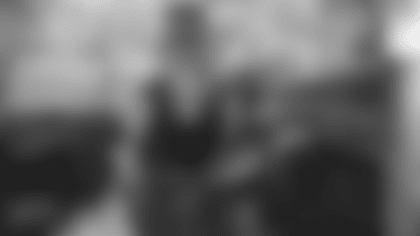 Friday, Jan. 31: The Perfect Storm
The following day proved as interesting as the first. Starting out with a bang, the Bills aficionados headed to South Beach to go parasailing. An ideal way to see "The Magic City," the Binggelis basked in the beauty around them, while making a few new friends.
"This was cool because we got on the parasail [and] there were two girls from Milwaukee and then us and then the kid he was asking us if we were down for the Super Bowl. And I was like, 'Yeah, do you know about the Bills? And he said, 'I don't really know. I don't follow football…'
"So, I told him my whole story and then the boat driver was a former tight end in college. So, we talked football. It's kind of cool we made the connection. He asked all about the wedding and the Bills."
To cap the ride, the pair did the most fitting thing they could.
"I said, 'Let's do how we celebrated when Kyle [Williams] said 'the Binggelis,'' so we did that. We raised our hands and the minute we did that, we got dunked in the water."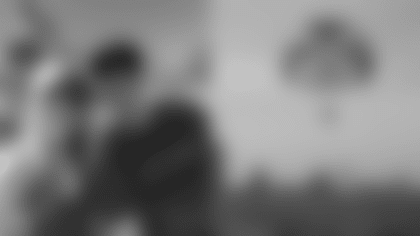 While planning to tackle the next item on their list, Jordan and Mackenzie were stunned when they saw two recognizable faces.
"We did the parasailing, went to the car and saw John Miller standing around," said Jordan.
Pausing to chat with the friendly former Bills offensive lineman, the couple barely had time to process the interaction before their jaws dropped. Walking inconspicuously by them to board a yacht, was musical legend Jermaine Dupri.
"I was really starstruck when I met Jermaine Dupri because that took me back to when I was very young in middle school," explained Mackenzie.
Feeling elated, the two jumped on motorized scooters and jetted off to their next destination.
"We went to the… [Super Bowl LIVE] at that point," said Jordan. "It was across the river from South Beach. We hopped over there. It was really cool. They had a ton of stuff there. They had a ton of meet and greets. They had a ton of football activities you could do. They had a station, so a bunch of kids were playing Madden there. They had photo ops; it was awesome."
"Derrick Henry and Jimmy Graham were there," said Mackenzie. "We walked around, we found our Bills helmet, we took pictures of the pier and everything…Sony Michel [was there], the one that was at our wedding from the Patriots, and Hannah Storm from ESPN was interviewing him."
Ecstatic to meet Storm, who she watches on ESPN each morning, Mackenzie was equally as excited to learn that the popular sports reporter was familiar with her and her husband's unique wedding story.
As impressed as they were by their surroundings and the people they got to meet, the Binggelis were also encouraged when spotting fellow Bills supporters around the city.
"Anywhere you went you heard a little, 'Go Bills,'" Mackenzie said.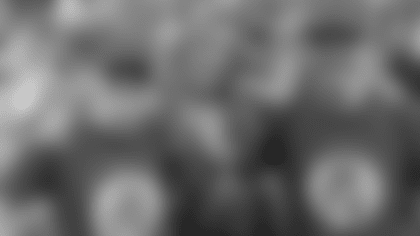 Saturday, Feb. 1: Bills Mafia in the House
Representing Buffalo each place they visited, the Binggelis continued to draw attention for their head to toe team gear and "Billieve" laden flag that they eagerly displayed – no matter the setting. With just one day left until kickoff, they braved the jammed expressways to spend time meeting football fans and players from around the country.
"Saturday, we drove back to South Beach, which was an adventure, and then we went to the convention center for the Super Bowl Experience that they were doing there because we were trying to meet up with Jim [Kelly]. He was doing a signing, meet and greet."
While they didn't get to catch up with their Hall of Fame bridal party member, Jordan and Mackenzie were beyond pleased with the afternoon – especially since they met Eagles wide receiver Nelson Agholor and Titans linebacker Rashaan Evans.
"It was kind of funny when we met Agholor," said Mackenzie. "He goes, 'Bills Mafia! Ya'll are everywhere…'"
The love for Bills faithful continued when Evans, who saw firsthand the unmatched passion synonymous with the fan base during the Bills-Titans game last season, commented on their attire and smiled for a selfie. The DJ also noticed the couple and uttered with excitement, "We've got some Bills Mafia here!"
Before calling it a day, the Binggelis couldn't resist another chance to raise their flag.
"We kept walking around this Super Bowl Experience, and we saw this crowd of people and were like, 'What's going on?' And the NFL Network was filming there, so we got way up front," said Jordan. "...It was Willie McGinest and Steve Smith and…James Jones and Mackenzie and I got all the way in the background of the camera shot. We were holding up the Bills flag."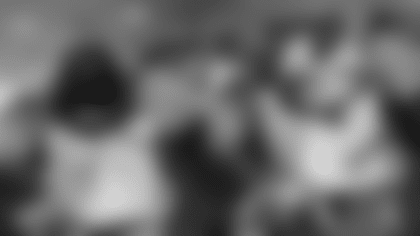 Sunday, Feb. 2: Super Bowl LIV
After packing in a week's worth of fun in just a few days, it was time for the grand finale – Super Bowl Sunday. Upon arriving at Hard Rock Stadium, at the exact time the lots opened, the Binggelis quickly realized why the word "super" is used in the game's moniker. Even in the parking lot, the ambiance was unlike anything they'd ever seen before. It was pristine. It was Miami at its finest.
"We pulled in… [with our] top down convertible," said Mackenzie. "I walked out like I was out of a movie. I felt like I was a celebrity in slow motion."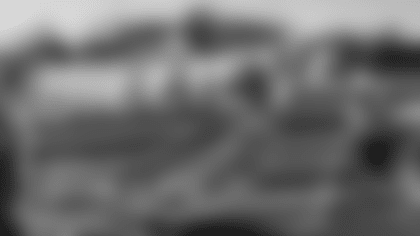 Surrounded by thousands of jovial Chiefs and 49ers fans, the Binggelis, who were sporting the Bills "Bride" and "Groom" jerseys that they wore on their wedding day, were pleased to see their Bills family in attendance.
"Literally, two minutes after we pulled in, I hear a 'Go Bills!' So, I turned around and this car full of Bills fans just pulls in and we talked to them," said Jordan.
Like any good Bills supporters would, Jordan and Mackenzie became instant friends with the once Buffalo residents, who explained that they'd watched the couple's iconic wedding ceremony.
To the Binggelis delight, they also developed a rapport with Kansas City fans.
"I have to say, the Kansas City fans were a lot like Bills fans," said Mackenzie. "The people we parked next to they live in Chicago but drive to every Kansas City home game. They have seasons. They guy's been a fan since he was little. The wife's a teacher and they make the trip. They are diehards and their sign has been on Sunday Night Football, Monday Night Football – it's about Tyreek Hill."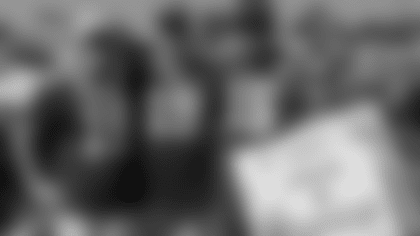 Although their NFL allegiance lies strictly with their hometown squad, the Binggelis decided to root for the Chiefs due in part to their newfound friendships, along with their respect for QB Patrick Mahomes, head coach Andy Reid and the former Bills lining the roster.
Moving from the tailgate, the allure of the event grew even stronger.
"When we walked in, it was really cool," said Jordan. "They push up the security, so they have more room for activities and vendors and stuff. We walked in and immediately they were doing the NFL on FOX. They were doing the live pregame show outside. Of course, we were holding up the Bills flag during that."
As they worked their way through the crowd to their seats, their custom garb caused quite a stir.
"The cool thing is, people asked, 'Did you just get married? Is this your wedding present?' Technically, yes, it is our honeymoon," said Mackenzie. "They see just 'bride,' but they don't know the whole story."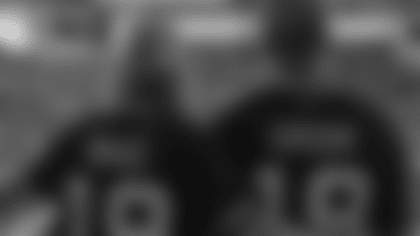 For some that they encountered though, the jerseys didn't require much explanation.
"Just like I told Mackenzie, I don't think we realized how many people witnessed or saw our wedding until people have come up to us and we're making random conversations…and they're like, "Oh my God, I saw your wedding!" I think that's really cool.
Taking in the positively overwhelming sights and sounds filling the stadium, the Binggelis gazed in awe as singer Demi Lovato performed the national anthem and as Hollywood stars like Key & Peele, Lady Gaga, Beyoncé, Jay-Z, Kevin Hart and Cardi B appeared on the jumbotron. When the game started, they were astonished once again.
"We've been to a couple away games, and this was probably the loudest game we've ever been to. They were on their feet the entire time," said Jordan of the attendees.
As if everything up until intermission wasn't remarkable enough, the halftime entertainment took the glitz and glam that the city is known for to the next level.
"Everything was picturesque in there," said Mackenzie. "I didn't go to the bathroom because I didn't want to miss halftime. Waiting there in your seat for halftime, was kind of like thinking about the wedding and how every little thing goes into… piecing it together…"
Singing and dancing along to the epic sounds of Shakira and J-LO, the couple was completely captivated by the experience. Given the gift of a close game, they cheered as the Chiefs battled their way to a 31-20 victory over their NFC adversary.
"We stayed and watched the confetti fall, which was really cool, and we got to listen to Mahomes' speech when he won the MVP award," said Jordan. "It was so interesting to watch live as opposed to watching it on TV."
As red and gold fireworks lit up the sky, the Binggelis enjoyed postgame snacks like they always do, while congratulating their Kansas City friends on taking home the Lombardi Trophy for the first time in 50 years. Fully immersing themselves in the entire Super Bowl experience, the football-loving, venturous, dynamic duo, reflected fondly on their perfect honeymoon and envisioned the bliss they'll feel when their Bills return to the big stage.