The Niagara Falls native had a smile that went ear to ear as he sat and spoke with the media this week at the NFL combine. The expression on Pitt RB Qadree Ollison's face was understandable. It's a natural response when you're living out your dream.
"This is something that I've been working for my entire life, not just the last couple of years," he said. "You grow up watching it as a kid. It's really surreal to be here. I'm embracing and loving every moment of it."
Ollison, who attended Canisius high school in Buffalo before moving on to Pitt, was a running back who enjoyed early success in his college career. After teammate, and fellow back, James Conner suffered a knee injury in the season opener, and later had to leave the team to battle cancer, Ollison stepped in as a redshirt freshman and pounded out 1,121 rushing yards with 11 touchdowns while averaging better than five yards per carry (5.3).
But when Conner returned after beating cancer, Ollison was once again forced to take a backseat… for the next two seasons.
"It was a little bit difficult," Ollison admitted. "You come off a good freshman season. You feel like everything is going great and you're on top of the world, but it wasn't that hard. James (Conner) came back from battling for his life and he deserved everything that he got. So it wasn't like I was made or anything like that. I was more happy for him than anything."
Even after Conner moved on to the NFL following the 2016 campaign, Ollison again played a jack-of-all-trades role stepping in for other injured starters on offense.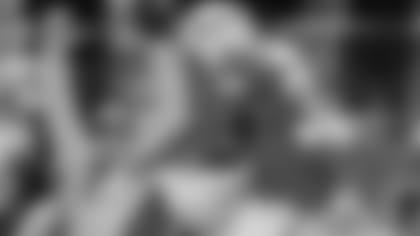 "Our fullback got hurt, our tight ends got hurt so I was asked to play a different role and I've always been a team player," he said. "So to be able to come back my senior year and finish it the way I did is definitely how you would write it in the book."
All Ollison did in his senior season was rush for a career-high 1,213 yards and another 11 touchdowns with an average of better than six yards per carry (6.25). And the last play of his college career proved to be the most memorable on Senior day against Virginia Tech.
"The ball was on the three-yard line and it was a power play to the right and our left guard and fullback both pulled around and the hole just opened up and I found the seam and hit it and started running as fast as I could," Ollison said.
As he took off into the secondary and tried to reach the end zone, he remembered executing the same play against Penn State in Week 2 that also went for a big gain, but he was knocked out of bounds before reaching the end zone.
"As I was running I was thinking about that," said Ollison. "I was saying to myself I can't get caught again. So I had a stiff arm ready and got to the end zone."
Ollison dispatched the last defender who was in pursuit of him at midfield and rolled to the end zone to cap a 235-yard, three-rushing touchdown day in a 30-point rout.
Now Ollison is trying to convince the NFL he's worthy of an opportunity. A power runner, who didn't get much of a chance to put his receiving skills on display is widely projected as a late round pick.
Bills GM Brandon Beane didn't rule out adding a running back to the roster this offseason, and with five picks in rounds five through seven this spring, the possibility exists for Ollison to make a homecoming.
"It'd be great. I grew up watching the Bills," he said. "My mom was a fan. I've been to plenty of games. It'd be something you write in a book. Plus, I could learn a lot from a seasoned veteran like LeSean McCoy."
Ollison, who once met McCoy when he returned to campus as a honorary captain during a spring ball game, already shares something with the five-time Pro Bowl back. Both are on a short list of Pitt running backs to finish their career with multiple 1,000-yard rushing seasons. The only other Panthers to do it are Hall of Famer Tony Dorsett, Curvin Richards, Dion Lewis and James Conner.
"It's a great accomplishment. It's something I'll remember for the rest of my life," he said. "I'm really excited that it happened. I'm proud to be a part of that list of great running backs. Definitely an honor."
But Ollison isn't focused on past accomplishments. He's trying to convince an NFL club that he's more than just a big body at 6-2, 225.
"I know I'm a big back who is powerful and gets downhill really fast," he said. "Really just an all-around player who can block and catch the ball. The ultimate team player. Someone who is going to do everything right on and off the field."
Add in the fact that he's had to learn four different offensive schemes under four different offensive coordinators and his special teams experience, it's the kind of college resume that finds a way onto NFL rosters.
"I've run every offensive scheme you can think of," he said. "So when I get to the NFL a new scheme won't be an issue for me."
Ollison just wants to hear his name called on draft weekend and by no means is he playing favorites, but if the Bills make the call he'd be over the moon.
"Any of the 32 teams that pick me I'll be happy to go to, whether it's 40 minutes from home or 40 hours from home," he said. "I'm going to be happy regardless of where I go. But I love Buffalo. It would be great."