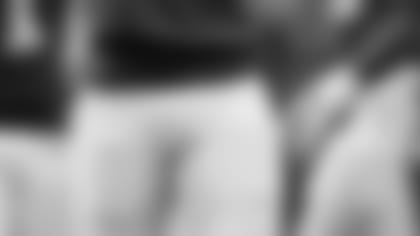 It had been some time since Jairus Byrd had turned in a game-changing play, whether it was a forced fumble or an interception, two categories where the safety has accumulated league-leading numbers over his career. What has been a trend however, is those types of plays have come in bunches for Byrd. Over the last two weeks that has again held true.
The first sign came in Pittsburgh in Week 10, when Byrd recorded a first quarter interception off Ben Roethlisberger. It resulted in a Bills field goal. This past Sunday he doubled the total with a pair of interceptions in the win over the Jets.
The multi-interception game was the fifth of his career, making him one of just three players in Bills history to have five games or more with multiple interceptions (Tom Janik 6, Billy Atkins 5).
"It's hard to explain. It's just a feel," Byrd said of his propensity to log two interceptions in a game. "You just go out there, you study, you prepare. Coaches do a great job of getting us in position to make plays and you just go out there and make plays. That's really what it is, just getting a feel back for the game."
Byrd admitted that after a nine-month layoff from a game setting it took him some time to get re-acclimated to everything, especially in a new defensive scheme.
The two-time Pro Bowl safety now has 21 interceptions since 2009, the most in the league among safeties over that span. Only Asante Samuel (25) has more interceptions in the NFL over that period of time. Byrd is also third in the league in forced fumbles among safeties since 2009 with 10.
Byrd credited fellow safety Aaron Williams with alerting him to the play in which he posted his first interception when Geno Smith tried to hit TE Jeff Cumberland on a crossing route. The takeaway led to a field goal.
His second interception was just a matter of reading Smith's eyes as he had a radar lock on Santonio Holmes on a dig route and simply stepped in front of the pass.
"It was just a coverage and I kind of went that way and really just sat," Byrd said. "I don't know how it really looked but I just kind of, the coverage took me that way a little bit and I kind of saw he was sitting there and it just came right to me."
Byrd also had a sack in the victory Sunday, making him the first player in Bills history, since the sack became an official statistic, with two interceptions and a sack in one game.
SEARCY PRODUCING POINTS
His teammate Da'Norris Searcy however, has gone a step further this season. He's turned his takeaways into points. Back in Week 1 Searcy had a long fumble return for a touchdown. Against the Jets he took an attempted receiver screen pass 32 yards the other way for a score.
"I wasn't shocked. I knew the play was coming, I thought he was either going to throw it or hold onto the ball," said Searcy. "And I thought if he held onto the ball someone was going to sack him. Mario (Williams) gave good pressure on him and he rushed it and threw it straight to me."
Buffalo's 16 interceptions this season currently leads the league. Searcy attributes their success to this point to the constant reminders provided by the defensive staff.
"The big emphasis is always takeaways," he said. "We want to be a defense that can put points on the board. If we could have an opportunity to score on defense we want to do so. If we continue to put more emphasis on getting takeaways I believe they will come."