Even though my rookie season is closer to the end than the beginning, I'm really focused on finishing the season strong and continue what we've got going on right now.
It feels like a long time from when my rookie season got going back in the spring. I am encouraged by the growth my game has experienced since those days in OTAs. I honestly feel like a bunch of things in my game have improved.
It's credit to the coaches and credit to all the older guys in the room. Early on, I was just trying to figure things out, which I'm still doing now, but I was playing blind in some of those early games and I always had Quinton (Spain) talking to me and guys like, Ty (Nsekhe) and Dion (Dawkins). They were giving knowledge and experience, and I have learned so much. They helped me process the game better. Now, the game has slowed down so much compared to Week 1.
At the start of the regular season I obviously would prepare with the game plan and all, but there were certain things you can't really learn through the film unless you're out there on the field and you know some of those guys who have been playing for a few years. Dion for example, in his third year, and Ty who is even older than him. Those guys have seen so much between both of them and they've seen things differently.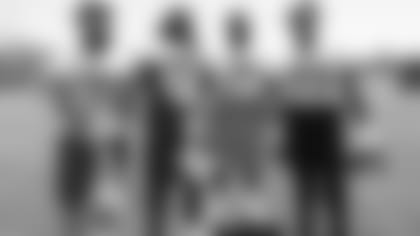 What was beneficial for me was I was able to take things from Dion that I couldn't take from Ty, or I took things from Ty that I can't take from Dion and tried to just find a balance to mold those things into my game.
With where my head was Week 1 to where it is now, I was like, holy... I was just trying to find my way through. But week by week I had just started gaining confidence and more confidence and more confidence and everything was just falling into place. I don't know when but at a certain point, my confidence went from a lower level to a much higher level and every part of my game got built into that.
Having shared the right tackle position with Ty during games for the first half of the season I can say there were benefits even though I wasn't playing the whole game. Whenever I would come off to the sideline he would tell me what he's seeing. That happens even more with him not playing now, but whenever he was playing we would be like, 'Yo this is what he's doing,' or 'This is what they're moving to now.' We were telling each other what we knew but we couldn't necessarily implement it right away because it wasn't my series or his series. So we knew it was important that we shared that information.
In a strange way being rotated in and out almost forced you as a player to be locked in even more. I'd come off to the sideline, talk to Quinton, figure out what was going on but I don't really have Ty there saying, 'Yo, watch this,' or whatever. Early on though whenever we were rotating, as soon as I would come off he'd be like, 'I'm seeing this, and I'm seeing that.' So it does keep you locked in more and it like forces you to watch the game and what Ty's doing when he's in there and see if what he's getting is the same or anything different.
While we still have one more game in the regular season we do have the playoffs coming up soon. A lot of the vets have already talked about how the level of play goes up another notch.
Early on in the season it took me a while to catch up going from preseason to regular season, but you know in the playoffs you don't have time to weigh it all out. But now with 15, 16 games under my belt I expect the transition for me will be faster than what it was from preseason to the regular season. Honestly, it has to be.