The word "cancer" is so prevalent in today's society and it seems like everybody has been affected by it one way or another. When it hits your immediate family it takes on a whole new meaning. I lost both my grandfathers last year within four months, one to pancreatic cancer and the other to leukemia.
Recently, my mother has been diagnosed with breast cancer. The commitment to find a cure reaches a whole new level when it hits home like this. The importance of getting screened every year is huge, it can save lives! I'm very grateful that my mom was diagnosed early, she is a fighter and she'll get through this with prayers and support from our family and friends.
So I'm going to continue supporting the American Cancer Society for 'My Cause, My Cleats,' and focus on  breast cancer awareness this year.
THEY ARE WATCHING OVER ME
The month of October has always been an important one for the DiMarco family when it comes to cancer awareness. For the last 15 years we have supported the American Cancer Society through my Uncle Chris's celebrity golf tournament in Orlando, Florida, called the 'The Chris DiMarco Tee up for Life.'
More recently it's been renamed after my grandparents, the 'Rich and Norma DiMarco Tee Up For Life Golf Tournament for the American Cancer Society.'
Last year for 'My Cause, My Cleats' I wore one purple cleat for pancreatic cancer to honor my grandfather Richard Vito DiMarco and one orange cleat for leukemia to honor my grandfather Samuel Wayne Floyd. I know they're with me, watching me every day – but to truly be a tribute to them during a game was amazing.
They were both athletes. My grandpa DiMarco played basketball in college, and my grandpa Floyd played football. I know they were watching over me and protecting me all season long last year.
The NFL and the Players Association offer several avenues and ways for us players to use our platforms for good. Having multiple months in which we can bring awareness for the different types of causes is huge. This year I'll be bringing awareness with the pink you see us wear in October for Breast Cancer Awareness month and the 'My Cause, My Cleats,' initiative in November.
Being a father of two now, pediatric cancer is also something close to my heart. Last year we had a carnival in our indoor facility for pediatric cancer patients and their families. Seeing the young kids who are battling through so much play, smile ,and interact with us was heartwarming. We threw the ball around, did face painting, danced a little and played carnival games. The joy that was in their face brought joy to our hearts.
We as players, we can't know what they're going through. We haven't walked a mile in their shoes, but being able to bring them a few smiles and excitement and life to them for the small time we were with them was pretty amazing.
These kids, they've been through so much at such a young age. They're fighters and they know that to get through it all they have to battle. We just encourage them, tell them we're thinking about them, praying for them and to keep up the good fight.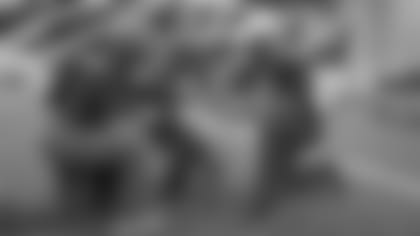 The close-knit nature of my family isn't all that different from what I'm seeing us build in our locker room. The love and brotherhood that coach McDermott is creating here in Buffalo is encouraging. We have guys come up and share their stories during the week at different times on why they play and who they play for.
These stories get pretty deep and intimate, where they talk about their loved ones or loved ones who have passed. Loved ones who might be fighting cancer or some other horrible illnesses. There have been some conversations about plans for October knowing it's breast cancer awareness month, and the younger players are really excited to pay tribute to those family members.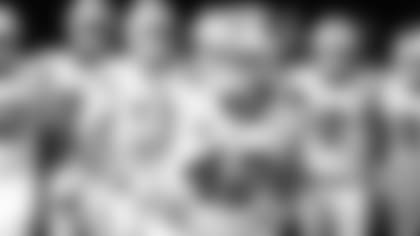 My second year here in Buffalo is a bit different with it being my first year as a team captain. My role is to love on the guys, lead by example, be vocal, do my job and influence guys to do their job at a high level.
We have weekly meetings with coach to give feedback on how the locker room is and what the overall vibe is and to see if there's anything in practice or meetings that we need to change up to help our team play at a higher level. He's super interested in our take and he's very receptive to what we think.
Coach gives us a message multiple times per week in our team meetings. He asks us as captains to echo that in the locker room to emphasize his message because he knows what it takes to be successful.
Most of us have been through good and bad seasons in our careers. It's kind of a wave. You've got to ride the ups and downs, but coach emphasizes that we must trust the process and continue to work day in and day out. By working your tail off the results will come.