It feels like a fresh start here with the Bills and almost a new me. I've known what I can do for a long time now. This is finally a real opportunity to go out and showcase it. So now it's just all on me to go play and have fun. In this offense I finally feel like I have the freedom to be me.
Really since I've been here it's been a liberating experience. It's back to how football was when it started. It's just fun and you're just going out and playing. There's not a huge weight on me on every play. If I miss an opportunity now I know I'll get another where they'll come back to me.
From day one to now the ball getting to me is so much faster and that helps. You can get away with a ball coming out late and getting tackled. But when you start to get the ball quicker, that's when the big plays come and I can get yards after catch. That stuff plays a huge role. Guys can't run after the catch if the ball is late or inaccurate. It's hard.
Even though I missed most of the spring due to core muscle surgery, I feel like my background as a former high school quarterback helped bridge the gap Josh and I had in terms of time on the field.
I've seen the game from his perspective. People think that me playing quarterback in high school wasn't a big deal. Most assume that I just played the option, but we threw the ball a lot. So I know what it looks like from back there and the angles that I now have to run to look open for Josh.
I tell people all the time that running routes is all about angles. It's all geometry basically. Wherever my guy is covering me, my angle is going to be different where I break. If I have a guy way inside, I know I have to come flatter or even negative to beat him to the ball. If I drift he's going to come right in front of me and pick it. So knowing angles and knowing what it looks like from back there so he can see that I'm open is critical. You take a wrong angle and it's the difference between me looking open and me looking covered to him.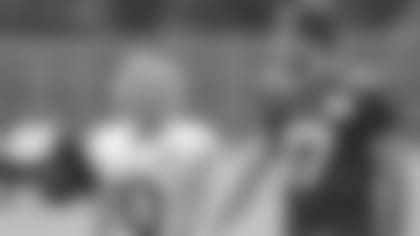 Growing up with a dad who was a high school football coach, I know now how fortunate I was in terms of my football education.
He was the one who really laid the foundation for me with understanding coverages. I would know what opponents would play, but I would come home sometimes and we would sit there and go over coverages, like where people are dropping and what their responsibility was. What the hook player is doing and who he has. So understanding coverages at an early age really helped me.
My dad was the high school coach at Little Elm (TX) for a long time. Even when I was young I was always around the team.
I remember in middle school I would change the play at the line of scrimmage every now and then. It was my dad's offense and in middle school, I wasn't at home going over it with him, but I kind of had a basic understanding of how coverages work. So I could see stuff and there aren't many middle school quarterbacks who change plays. There was no, 'Hey when you see this, change the play,' from my coach then. It was just one game where I was looking at the defense and thinking, 'What the heck.' And I changed the play. The play that was called might've worked, but I saw a better one and just changed it. And it worked.
By the time I was a senior in high school, my dad would let me take a series where I would call it all myself. Sometimes a whole half. He'd be like, 'Alright you've got this drive. Mix in some runs.' So he'd let me call it.
Once you have a good understanding of an offense and what you like to do against certain coverages, you can let a guy do that. He knew that I could handle it. I had a lot of fun in high school.
So now when I'm out there pre-snap, I can narrow down what coverage the defense is in probably to two options every snap. Then right when the ball is snapped I know, just like that. It's almost unconscious now. I'm never really surprised.
Knowing coverages is huge, especially in my position and in this offense.
Without my dad's football influence I think I'd still be in the NFL, but maybe not this long. I definitely play at a higher level now because of what he taught me. Just with my quickness and my ability to catch the ball and run routes I think I would've gotten here, but to take it as far as I've gotten now, that's because of the foundation I set with him. Playing college ball at SMU, which was a heavy option route offense, helped a lot too.
Being here in Buffalo now football is fun again for a lot of reasons. Brian Daboll is a big reason why I enjoy coming to work. He's so open-minded about taking input from the players.
I've had offensive coordinators before him who aren't like that. There was nothing I could tell them to get them to try something.
But with Daboll when I suggested a play concept he was like, 'Alright I'll try it.' After he called it, he said, 'It looks good. I like it. We'll see.' Now if it didn't work it probably would've been thrown out. So it's on us to execute it and we have so far.
That kind of stuff is awesome. It makes you love playing for him. It also makes it so much easier to play free. I have no fear in going to him and telling him what I see and explaining how and why I think we can win on this kind of a play. Eventually when we get in the right situation I know he'll call it.
Where I was before if I missed my opportunity on a play I might not get another one. That's just how the offense kind of worked. You can't play carrying a weight like that. It's really tough. Even though I did well with it there, mentally it kind of messes with you when you have to do that. There was so much stress and anxiety leading up to the next opportunity.
In this offense I'll have a lot of opportunities to make up for something that I maybe didn't take advantage of early. So now if I do make a mistake I can just line up again and just go out and play football.
There's nothing better than when you can stay in the moment and forget the last play and go to the next one. That's how you play your best football. So I'm excited.