This Sunday's game in Pittsburgh is one that has been circled on my family's calendar for several months. Getting the opportunity to play on the same NFL field as my brothers is great. It's kind of hard for me to really put it into words, just because it's been a lifelong dream of ours. Just being at this stage playing in primetime against my older brothers Trey and Terrell, what more could you ask for? What more can we ask for as a family?
So, we're just really excited about going out there, displaying our talents to the world and I wish Trey and Terrell nothing but good luck. But once game time comes I know we are going to be competitive, so we're just going to go to work and just do what we've been doing all these years.
While I do talk to my brothers about how my game went each week during the season and recap it, I haven't really talked to them as much about this upcoming game because we've all kind of just been locked in.
It's going to be strange initially because we really never faced off against each other before. Not on opposing teams anyway. The only time we did go against each other would be pickup football games and basketball games.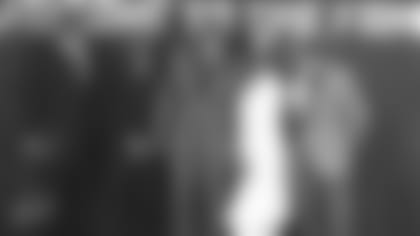 We'd end up fouling each other every play. We couldn't even get through the whole game because you know how brotherly love is. Everybody ends up fouling each other and you can't even dribble the ball because you're all on top of each other, but that's just how it was. At the same time I think that made us the players that we are today, just because we pushed each other to be the best.
So knowing this will be the first time we're going against one another I'm anxious to see how that's going to be. It's going to be surreal standing out there with them, but at the end of the day, I've got to go make a play.
Realizing I could meet Trey (a fullback) in the hole on a run play or something, I'm pretty sure when I go back and look at the film I'll still be saying, 'Man, this is crazy!' We'll talk about it I'm sure. Hopefully I win so we can talk about a little bit. I could joke to him about it, tease him about it a little bit. It's definitely going to be crazy and it's definitely going to be fun and an experience that we'll never forget.
Somebody did share with me this week that this is the first time since 1927 that three brothers played in the same game in league history. I was stunned by that. That's amazing. Just to be a part of that history it speaks for itself. We're very blessed to have this opportunity.
In terms of what's on the line besides the obvious AFC playoff berth is bragging rights. We all want to win. That's just how it goes in my family. All of us, every time we step foot on a field the only goal in my mind is to win. So nothing is going to change on Sunday. My mindset? I want to win. So it's just going to be a competitive game.
I'm just really proud of my family, all of us being in the NFL. It's a dream come true for all of us. My parents will be at the game and the only thing both of them have said to us is to go out there and ball out and that's what we're going to do.
As much of a special moment as it might be, it's a ball game. We've got to go out there, we've got to compete, we've got to help our teams win. I'm going to do everything I can to help my team.
Reflecting on everything that led up to this game and knowing how our parents raised us and prepared us for this opportunity I realize how valuable it was for us as brothers to have each other.
What we're enjoying now goes back to us pushing each other. If there was ever a time when one of us didn't feel like doing something, we could always lean on that other one to just somehow bring it out of us. I think that's something that really helped us a lot.
I think everybody has times when maybe they may not feel like giving their all at a certain moment. Maybe there was something going on with one of us on a given day, but there was always one or two of us to just push the other to that next level. And I think that's one thing that we all did well with each other was push each other no matter what it was even outside of sports.
We'd push each other to be better in everything. So I can't thank Trey and Terrell enough because with me being the youngest, without them showing me the right way, it really would have been hard for me to make it. So just to have positive people like that in my life, I know it meant a lot for me.