If there's one thing that characterizes the city of Buffalo, it's that here, we take care of our own. 
Commonly referenced as the special X factor that sets Buffalo apart from other cities, it requires no explanation, and yet, it's simply understood. Nowhere is this unique and genuine desire to help others more evident, than at the Buffalo Bills. This holiday season, Bills players showed fans around the world what it truly means to wear a Bills jersey, touching hearts and impacting lives forever in the process, through genuine acts of selflessness.
Despite their diverse backgrounds and perspectives, Bills players are bonded, as if almost instantaneously, by a sense of duty to be a good teammate, friend and member of the community. One player that can attest to this is Bills safety Jordan Poyer, who recently spent a day off with 20 kids from Camp Good Days, an organization that provides services to children battling cancer or who have been affected by it.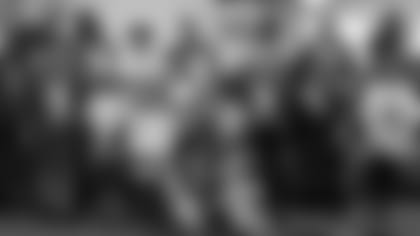 "It was everything," said Poyer who gave each child a $150 gift card to go on a shopping spree. "It's something you can't really explain just to be able to give back to those kids and put a smile on their face, let their spirits rise up a little bit and just be able to hang out with them and just enjoy some time with them, it was really cool."
Given the green light, the kids swiftly moved from aisle to aisle, placing toys and other items from their holiday wish-lists in their carts.
Poyer wasn't alone in his pursuit to provide others with happiness this week, veteran linebacker Lorenzo Alexander, the team's Walter Payton Man of the Year, also stepped up in a major way.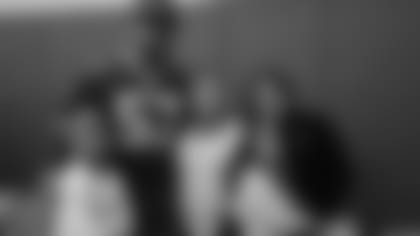 Through his ACES Foundation, Alexander, and his wife Manjanique, adopted 10 local families from South Park High School and the Belle Center for the holidays.
"Coming from humble beginnings, like a lot of these families in the Buffalo area, [we're] just trying to fill the void and relieve some of the stress, because I know how important this time of year is," explained Alexander. "Sometimes we go without something [and] as a parent and it's stressful because you really want to provide for your kids and it's hard sometimes, especially if the finances aren't right."
With help from several Bills players' significant others, the Alexanders shopped for and wrapped each present with care. Alexander even hand delivered the gifts – first to the South Park students' houses and then to the Belle Center.
"It's cool, [to see the reactions on their faces]," said Alexander. "[They're] very appreciative and thankful and then obviously for some of the kids, I have a relationship [with them], so it's just cool to go into their home and get to meet their sisters, little brothers, moms and aunts and just get a little bit more background [about] who they are and where they come from."
Alexander's kindness didn't stop there, however. While meeting with families at the Belle Center he had a big surprise up his sleeve for Lucy Candelario, the center's executive director.
"Obviously, Ms. Lucy does a great job in the community – [a] real grassroots foot solider doing the day-to-day work," said Alexander. "One of the benefits of being the Walter Payton Man of the Year nominee for the Bills is [you get] a pair of tickets to the Super Bowl, so we want to be able to bless her for all the work that she's done. We're going to pay for her flight and hotel as well, just to give her an experience and really a big thank you…for all the work she does in the community."
Like Alexander, the Bills wide receivers, guard John Miller and kicker Stephen Hauschka adopted families for the holidays.
When offensive assistant Chad Hall presented the wide receiver corps with an idea to trade in the traditional 'secret Santa' gift exchange for an opportunity to brighten up the holidays for two deserving local families, Zay jones says he and his teammates instantly agreed. After donating funds to purchase gifts, the wide outs took things one step further when they hand delivered them to each family.
"…I think when you're given so much, and you understand that you've been blessed with so much, and there are so many opportunities that you have [by] playing in the NFL, that giving back is the least you can do – especially for the community that supports you and loves you and cheers you on faithfully," said Jones. "It's just something special that this group of guys can do to give back. For me personally, it means a lot because I know the impact that it has just showing love to someone or caring for someone. It goes a long way. It goes way beyond just playing football."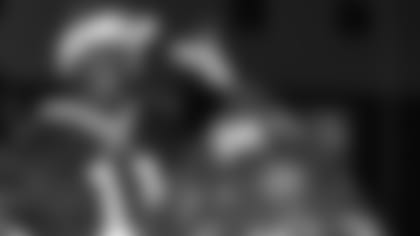 Echoing Jones' sentiment, John Miller used his platform to assist two families.
 "I adopted two beautiful families through the United Way," he said. "I donated…[and] they did a little shopping and today [Friday, Dec. 21] I actually get to meet them down at the United Way [and] spread some holiday cheer. It's beautiful. It's always a good time to give back and I'm so fortunate that God has given me a lot. So, I want to spread it around."
For kicker Stephen Hauschka and his wife Lindsey, adopting a family has become a holiday tradition and this year the gesture took on extra meaning.
"This particular situation, Lindsey was shopping for presents and then found out some rough news that the person we were getting the gifts for was in terminal condition and had to go to the hospital," said Hauschka. [It was] just devastating news."
First introduced to the family last year, the Hauschkas were eager to offer their support.
"We decided to go down and visit her and give her the presents in person and try and cheer her up in some way," he said. It's just a rough situation all around. We felt like if we could improve it even a little bit, that's what we would do."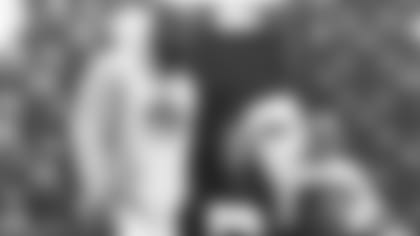 Running back LeSean McCoy, also spread holiday cheer around the city in the days leading up to Christmas, when he and his Shades of Greatness Foundation held a party for 400 youth at the at the William-Emslie Family YMCA.
 "This is our second year partnering up with the YMCA here in Buffalo, me and my foundation Shades of Greatness, basically we just have a huge party, celebration for the kids," explained McCoy. "I grew up in the YMCA…so I know all about it. I know that sometimes there's kids in there that may not have parents to provide them with gifts, [or food] to eat, things like that. Me and my foundation, what we do is, we just provide clothing [and] gifts…We want them to feel welcome, to feel appreciated [and] to show them some love…"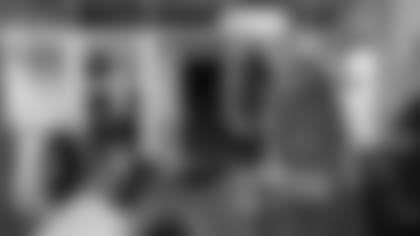 Similarly, safety Micah Hyde showed a lot of Buffalove when he and his wife Amanda hosted a one-of-a-kind holiday extravaganza for 250 kids from the Boys & Girls Clubs of Buffalo called "Kicks for Kids." Through his IMagINe for Youth Foundation, Hyde provided each child with a new pair of Nike sneakers. Presented with the sneakers at the party, the kids got meet Hyde and a few of his teammates, eat dinner and dance to some Christmas classics in the winter wonderland-themed Dunn Tire Club at New Era Field.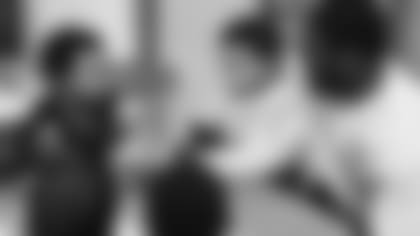 Fellow member of Buffalo's secondary cornerback Tre'Davious White dished out a healthy helping of goodwill when he invited 27 kids to the African American Cultural Center for a holiday giveaway. Joined by his family members, White, who is known for his charitable acts in his hometown, Shreveport, Louisiana, made the holidays special for the local kids by gifting them Bills apparel, winter coats and more.
"Anytime I can give back, that's what it's all about because kids are our future," he said.