1. John Miller and Dion Dawkins humbled by hospital visit
The holiday season always has a way of putting things in perspective, serving as a reminder of how important it is to appreciate the little things. On Tuesday, Bills offensive linemen John Miller and Dion Dawkins shared a moment at John R. Oishei Children's Hospital that proved quite remarkable. Although they both do their part to make a positive difference in the Western New York Community throughout the season, each gesture of goodwill always leaves an impression on them.
As they excitedly went from room to room to hand out Bills-themed gifts and to visit with the young boys and girls, the duo grew increasingly more grateful for the experience.
"[It was] definitely a humbling experience," said Miller. "Some of those kids are a big inspiration to me because I know a lot of them deal with things on a daily basis and just to see some of their spirits [was great]. They're just full of smiles and they're always happy and in a good mood. So, it was refreshing, and I just wanted to spread some holiday cheer to the kids and put a smile on their face, give them some Bills gear and a couple of gifts. It was a good turnout."
"Absolutely, [it left a big impact on me]," said Dawkins. "We just went in there, me and John Miller, we gave away gifts…just to put a smile on those kids' faces…"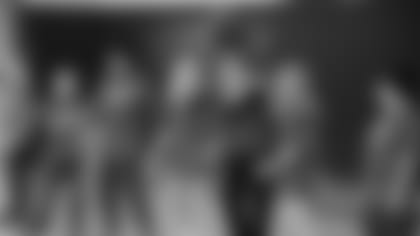 2. Deonte Thompson plays 60 with local youth
He's only been back with the Bills for a short time, but wide receiver Deonte Thompson has picked up right where he left off. This week, Thompson paid a visit to Cayuga Heights Elementary School in Depew to take part in a Play 60 gym class. At the event, which is in conjunction with the Play 60 Challenge and Independent Health Foundation Fitness for Kids Challenge, Thompson participated in a series of fitness drills with the children and even showed off a few dance moves.
Throughout the school year, the program teaches students the importance of getting 60 minutes of physical activity each day, as well as making healthy eating choices.
At just 20 years old, Bills rookie linebacker Tremaine Edmunds has been nothing short of impressive. What's equally as impressive though, is how far the football genes run in his family. With his father paving the way, Tremaine and his two brothers, Trey and Terrell are also playing in the NFL. A phenomenon in their hometown, Danville, Virginia, the 'E-Boyz' are always looking to give back to the area that supported them while they were growing up. Teaming up with organizations in the area, the trio will be hosting an inaugural fundraising gala to raise funds for scholarships to support high school athletes on Feb. 23.