For Bills veteran kicker Stephen Hauschka and his wife Lindsey, staying in Buffalo means that they have more time to make an impact. Not only has Hauschka worked tirelessly on perfecting his craft this offseason, he and Lindsey have also worked to find a way to give back to those in the area. Throughout the 2019-20 football season, the Hauschkas are teaming up with the SPCA Serving Erie County to help the good boys and girls at the Western New York center find their forever home through the new "Hauschpups" program. For each field goal that the special teamer makes during games at New Era Field, he and Lindsey will pay the adoption fee for a dog at the center.
A cause that's near and dear to them, the Hauschkas, who have two dogs of their own, couldn't think of a better way to make a difference.
 "With Lindsey's involvement in the SPCA, she's been volunteering there for a little while, and we've been involved with [the] Seattle Humane Society too, so it's kind of a continuation of something that's true to our hearts," explained Stephen. "[It's] a cause that we care a lot about [and] that's animals. We have two dogs ourselves and love them so much. You know, I think every time Lindsey comes home from the SPCA, walking the dogs there, she just feels bad for some of these dogs that don't get a home. They have good living conditions there, but it's not the same as having a loving family to go back to. These are great dogs too and she shows me pictures of them and asks me if we can adopt them.
"With our lifestyle and a bunch of travel, we can't have more than two, but that's really where the involvement came from..."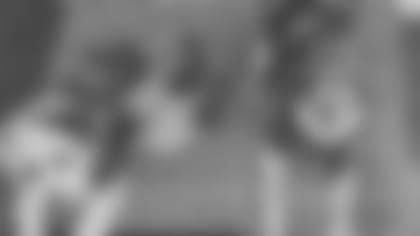 Lindsey, who spends time walking dogs from the SPCA Serving Erie County when she's in town, has developed a true connection with the caring staff and lovable animals she interacts with. Wanting to expand on her efforts, she drew upon her experiences volunteering to form the idea for "Hauschpups."
"It kind of dawned on me," said Lindsey about the program. "It was right around when Steve signed his new contract. I'm like, alright, this is awesome. This seems like a really good opportunity to get involved in the community and also do something that we're super passionate about, which is helping animals and [to] support the people who work so hard to help the animals at the SPCA.
"Something that kind of stuck with my through volunteering, is that sometimes volunteers will pay the adoption fees themselves just if there's a dog they really love – if they can't take them home and that's awesome," she said. "Of course, there are other financial responsibilities that come from getting a dog…but if we can help in some way [to] have a family get a dog that maybe they wouldn't be able to afford that day…[is special because] the dogs come and go really quickly…"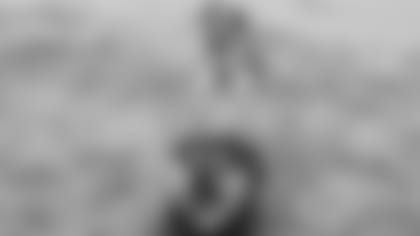 An undoubtedly meaningful gesture, paying the adoption fee for a dog can go a long way.
"…If they see a little sign that says, 'This adoption fee has been paid for,' people just love that, and it gives the dog a chance to be adopted…and that just helps us out a lot," explained the SPCA Serving Erie County's events coordinator, Amber Murphy.
"For someone like Stephen to come in and kind of promote that…that's just tremendous for us…We rely on our volunteers. So, the fact that Lindsey is even a volunteer and comes in...[is great]. We couldn't do anything we do without our volunteers. So, for her to be here...and then get Stephen into it and do a little bit even more than just volunteering, is amazing and we appreciate it. We love that they are interested in doing this for us…We're just very thankful for them."
Back at New Era Field for the team's home opener on Sunday, Sept. 22, Hauschka will get his first chance to make field goals for an adorable cause.
For more information on pet adoption and for details on how you can volunteer at the SPCA Serving Erie County, visit here.