What seemed like an ordinary day at Bills Training Camp, presented by Connors and Ferris, this summer, turned out to be much more than that for one family from Pittsford, New York. As the Cavaliers, including Frank and his two sons Rory, nine years old, and Owen, 11 years old, visited St. John Fisher College to watch the Bills prepare for the 2018 season, they never imagined that they'd leave with a special gift from Bills running back LeSean McCoy.
 "The Town of Pittsford always does an event for families with family members with intellectual or physical disabilities," said Frank when describing the reason for their visit. "Rory was born with Down Syndrome."
While they stood along the fence in the Bills Community Relations tent, eagerly awaiting a chance to get autographs from some of their favorite players after practice, they were met by a very enthusiastic McCoy. Approaching Rory, the youngest member of the Cavalier family, with a smile, McCoy handed him four tickets to Buffalo's Week 12 game against the Jacksonville Jaguars. Beaming with excitement, Rory, as shown in the viral video of the interaction, proudly accepted the surprise.
"Rory knows all the big players like LeSean McCoy [and] Josh Allen," said Frank. "He's always asking where the players are…It was just exciting to have LeSean come over and take a picture with him and sign a few autographs and then we saw Shady coming back. I didn't know what was going to happen. A lot of the players were giving away their shirts and their gloves, so I thought he was going to give Rory or Owen the gloves and then he blessed him [Rory] with the tickets.
In the months leading up to his first-ever Bills game, Rory was overjoyed and as his father described it, couldn't stop talking about it.
"Yes [he was looking forward to coming to the game]," explained Frank. "He hadn't stopped talking about it and he hasn't stopped talking about it [since attending the game] …He was ecstatic the whole time leading up to it."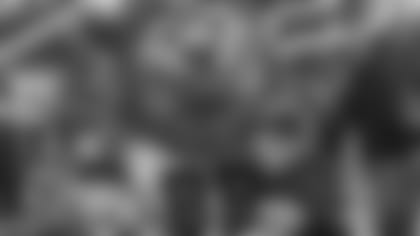 When the big day finally arrived, Rory, who was joined by Owen, his father and his mother, Eileen, made the trip to New Era Field, where they enjoyed the opportunity to spend quality time together as a family. Before kickoff, Rory and Owen even got to test their football skills and take photos with Billy Buffalo in the Fan Zone.
Proving that a small gesture of kindness can go a long way, the Cavaliers, and especially Rory, will hold the experience near to their hearts forever.
 "He had such a good time," said Frank. "He was cheering and had the whole section just up in arms about everything, so it was great."