The staff at Buffalobills.com has tracked more than 150 mock drafts since start of December.  Here's a list of the players most selected for the Bills thus far – S Jamal Adams (19), WR Mike Williams (18), WR John Ross (11) and QB DeShaun Watson (11). Below is a list of the most recent mock drafts tracked by the Buffalobills.com.
No. 10 – Deshaun Watson, QB, Clemson
The Tyrod Taylor situation in Buffalo will continue to play itself out the next few weeks, but if he's out of the picture then Watson becomes an intriguing option with this pick. Not sure this would be the right move, but it is definitely plausible.
No. 10 – Deshaun Watson, QB, Clemson
I'm a believer in franchises with new head coaches starting fresh with new quarterbacks, and it appears likely the Bills move on from Tyrod Taylor after hiring Sean McDermott. That leaves Buffalo with a huge hole and a top-10 pick to fill it. I wrote last week that I didn't think Watson would get a post-title game draft bounce, but I've heard differently from people around the NFL. Though he had an up-and-down season -- and threw 17 interceptions -- Watson is extremely talented. He's the second quarterback off the board in this projection, ahead of Notre Dame's DeShone Kizer.
![](http://bank.mtb.com/bonuscoupon?ch=pmds&cid=pmds|2017Deposits|Bills150Vertical)
No. 10 – Corey Davis, WR, Western Michigan
Davis is a complete receiver who would be an excellent complement to Sammy Watkins. His combination of route running, ball skills and toughness is outstanding
No. 10 – Mike Williams, WR, Clemson
The Buffalo Bills said goodbye to head coach Rex Ryan towards the end of the 2016 NFL season, and will look to usher in a new era with Sean McDermott as their new man in charge. McDermott will be getting his first shot at a head coaching gig with the Bills, as the 42-year-old spend the last few seasons with the Carolina Panthers. His first order of business is going to be finding out who is going to play quarterback for him next season, as Tyrod Taylor just may not be the answer at the position.
Adding a quality offensive weapon for whoever is going to be under center is going to be crucial for the Bills, who have the daunting task of playing in the AFC East. Wide receiver Sammy Watkins is a nice young talent, but he has proven to be a bit injury prone during his time with the team. The Bills need to draft a wide receiver to compliment him next April, and Clemson's Mike Williams is the best of the bunch.
Williams may be one of the better wide receiver prospects we have seen in a long time, as he has the ability to change games with his skill set. Not only can he burn cornerbacks deep, but he is not afraid to go over the middle, and has proven that he can make the big catch at the big moment. He is going to be an excellent pro, and having Watkins and Williams on the outside will make the Bills offense one to watch next season.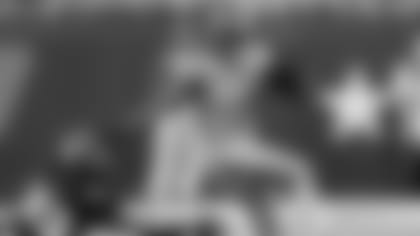 No. 10 – Corey Davis, WR, Western Michigan
The Bills could very easily take a quarterback here. However, they would be a lot wiser building around Tyrod Taylor. It's hard to see them building around one of the young passers in the class. The team isn't all that far from contending, honestly. They seem to think Taylor isn't a great passer, but they've also failed to surround him with great talent. Adding a competent number two receiver would certainly help them out in the long run.
Corey Davis would certainly be a solid number two option. Davis has consistently produced at a high level for three years now. Granted, he's done so against mediocre competition. He has an excellent combination of height, weight, and speed, which won't change based on who he's playing against. Taylor would be a lot better with him on the team.
No. 10 – Solomon Thomas, DE, Stanford
If there was a list of players most likely to skyrocket during the NFL draft process, Stanford's Solomon Thomas would be at the top of it.
The 6'3", 273-pound defensive end is a disruptive force who proved to be too much to handle for any collegiate offensive lineman. Thomas led his team with 62 total tackles, 15 tackles for loss and eight sacks. His motor runs hot, and he showed he can take over a game in the Sun Bowl against Mitch Trubisky and the North Carolina Tar Heels.
The Stanford product graded among the nation's best defenders too, per Pro Football Focus. 
Furthermore, Thomas is expected to test very well at the combine and/or his pro day. According to Fox Sports' Bruce Feldman, the defensive lineman is expected to run his 40-yard dash in 4.5 seconds and post a vertical jump at or near 40 inches. 
Thomas' combination of production, potential and youth (he's 21 years old) makes him one of the most intriguing prospects in the draft.
For the Buffalo Bills, Sean McDermott's defense is predicated on a pressure front. The Bills' new head coach experienced plenty of success during his time as the coordinator of the Carolina Panthers just by rushing his front four. 
Thomas would join a defensive line rotation that features Marcell Dareus, Shaq Lawson, Jerry Hughes and Kyle Williams. That group could attack opposing quarterbacks in waves.
No. 10 – Mike Williams, WR, Clemson
No team was more dependent on running the football in 2016 than the Bills, who led the NFL with 164.4 yards per game on the ground but ranked 30th in passing with just 189.8 yards through the air. With no less than five receivers currently slated for free agency, the Bills will likely be looking for replacements and could see reuniting the 6-3, 225-pound Williams with his former Clemson teammate Sammy Watkins as the perfect solution.
No. 10 – Malik Hooker, FS, Ohio State
If Tyrod Taylor's not back, QB will obviously be in play here, as well as WR. Hooker isn't as well-rounded as Adams, but he's got a rare combination of athleticism, range and ball skills.
No. 10 – Ryan Ramczyk, OT, Wisconsin
Buffalo could use upgrades at right tackle, wide receiver and safety. There is excellent safety depth for Day 2 of the 2017 NFL Draft and some quality receivers in that range. Offensive tackle on the other hand is thin. Thus, the Bills could be better off getting one of the true left tackles in Cam Robinson or Ryan Ramczyk in Round with a safety and wideout coming on Day 2. 
Ramczyk had a strong 2016 eason blocking for the Badgers in his debut as their starting left tackle. In 2013 and 2014, he was the starting left tackle at UW-Stevens Point where he earned a lot of accolades before sitting out the 2015 season with a redshirt after transferring to Wisconsin. Ramczyk was one of the better left tackles in college football during 2016. 
Ramczyk has a lot of good qualities that could lead to him being a starting left tackle in the NFL. He is quick out his stance, fast to hit blocks in the second level, and is able to get in position for blocks in space. In pass protection, Ramczyk can play the type writer with his feet and shuffle with rushers. He gets depth in his drop as well. On some plays, Ramczyk can be slow to react and adjust to counter pass-rush moves, but that will change when he gets more experience. Ramczyk also needs to add more strength. He can get bull rushed and pushed back by rushers. His frame doesn't look maxed out though, and he should get stronger in an NFL strength and conditioning program. 
No. 10 – Malik Hooker, FS, Ohio State
Hooker's elite ball skills have earned him a first-round grade and comparisons to the great Ed Reed. What more is there to consider?
No. 10 – DeShone Kizer, QB, Notre Dame
It's hard to figure out what the Buffalo Bills are thinking at the quarterback position. The only thing that appears clear at this point is Tyrod Taylor likely won't be starting for them in 2017. E.J. Manuel is done as well. The only untried players on the roster is Cardale Jones and he's not yet shone any reason to think he can become the starter for a franchise that hasn't made the playoffs since 1999. With a top 10 pick at their disposal, it may be time for another crack at the position. Doug Whaley seems to favor quarterbacks with size, mobility and a big arm. Odds are he'll fall in love with Deshone Kizer. Scouts have been doing that for two years. His skill set is quite intoxicating. When Kizer really cuts it loose he can fit a ball into some incredibly tight windows. The arm strength is for real and he's also a threat as a runner. Thus far his problems have been an ability to throw accurately under pressure and diagnose coverages quickly. With better coaching and protection that should improve.