The staff at Buffalobills.com has tracked more than 200 mock drafts since the start of December.  The position most selected for the Bills at the No. 10 pick has been wide receiver (56 times).  The player most selected for the Bills has been WR Mike Williams (29 times). 
Below is a list of the most recent mock drafts tracked by the Buffalobills.com.
No. 10 – Deshaun Watson, QB, Clemson
Watson's draft stock is all over the place in NFL circles. The Bills could make Tyrod Taylor a cap casualty, saving them money and opening the door for Watson.
No. 10 – Mike Williams, WR, Clemson
… Buffalo has to consider a big-play wide receiver. Sammy Watkins is a constant injury risk, Robert Woods is about to be a free agent and no one on the current roster can physically impose his will as Williams can.
![](http://bank.mtb.com/bonuscoupon?ch=pmds&cid=pmds|2017Deposits|Bills150Vertical)
No. 10 – Jamal Adams, S, LSU
Buffalo could use upgrades at right tackle, wide receiver and safety. Of those positions, Adams is the best value of the available players. 
In 2016, Adams totaled 76 tackles with four passes broken and one interception. The junior is a future starting safety, who sources said during the preseason that they think is a top-20 talent. He is able to contribute in pass coverage in the underneath part of the field and is strong enough to play in the box. 
Adams has versatility, but his play was subdued in 2016, and perhaps he had the NFL on his mind. Adams turned it on and did play very well against Alabama and Ole Miss' receiving tight end Evan Engram. 
The 6-foot-1, 211-pound Adams has versatile size to play strong or free safety in the NFL. He is an instinctive defender who always seems to be around the ball. In 2015, Adams had 67 tackles with six passes broken up and four interceptions. As a freshman, he recorded 66 tackles with five pass breakups. 
No. 10 – Mike Williams, WR, Clemson
My pick for the Bills has often been a quarterback. But what if general manager Doug Whaley is so enamored with Cardale Jones that he refuses to take a quarterback in the first round? If that's the case, the Bills could finally get that ace wideout to use opposite Sammy Watkins who, by the way, will be looking for a new contract sooner than later.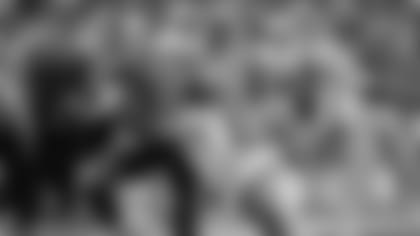 No. 10 – Jamal Adams, S, LSU
The biggest question here is what happens at quarterback. If the Bills bring back Tyrod Taylor, it means they're not entering into a total rebuild and should try and find an immediate contributor. Adams would be just that in the secondary. Another option would be to add another wide receiver to pair with Sammy Watkins – either Western Michigan's Corey Davis or Clemson's Mike Williams would fit that bill. Adams looks to be a complete prospect, with solid intangibles, an ability to play against the run and the explosiveness teams look for in a top-10 pick.
No. 10 – Mike Williams, WR, Clemson
No team was more dependent on running the ball in 2016 than the Bills, who led the NFL at 164.4 yards per game but ranked 30th in passing with just 189.8 yards. With no less than five receivers currently slated for free agency, the Bills will likely be looking for replacements and could see reuniting the 6-3, 225-pound Williams with his former Clemson teammate Sammy Watkins as the perfect solution.
No. 10 – Ryan Ramczyk, T, Wisconsin
A huge trade-up or trade-down possibility here. The Bills will probably fall in love with Watson — he's going to be the magic potion quarterback in this class for teams that don't have a strong football ops department — meaning a trade-up to ensure they land him. They might also need to trade up for a safety — the top two are off the board at No. 10. 
I don't see Kizer here. He's projectable, but they'll probably see too much of Cardale Jones in him to pick the Notre Dame QB at No. 10. That's also a problem with Jabrill Peppers — he's a fringe first-round prospect, not a No. 10 pick. 
It's hard to see the Bills staying at No. 10 unless things fall their way. If they do stay, they bolster the offensive line with the best tackle in the class (though they could probably trade down for him as well.) 
No. 10 – Sidney Jones, CB, Washington
If the Bills move on from Stephon Gilmore, they could grab the long, rangy Jones to fill the CB1 role.
No. 10 – Jabril Peppers, S, Michigan
New head coach Sean McDermott will be installing an aggressive 4-3 scheme — a switch from Rex Ryan's traditional 3-4 defense. McDermott's success in Carolina as defensive coordinator was predicated on an athletic group of linebackers. Two of those linebackers (Thomas Davis and Shaq Thompson) were converted college safeties. Sound familiar? Peppers, like Thompson, played every position under the Sun in college. The Heisman finalist was one of the best returners, weakside linebackers and safeties in the nation. They both also played running back.
No. 10 – Mike Williams, WR, Clemson No matter what quarterback the Bills trot out next season, in this scenario they would have two former Clemson studs to throw to in Sammy Watkins and Williams.