In the latest edition of Mock Draft Watch presented by M&T Bank, national media predict multiple rounds of Bills picks for the upcoming 2016 NFL Draft.
No. 19 – Noah Spence, DE, Eastern Kentucky
Rex Ryan's defense needs a pass-rushing OLB. Might be tempted to trade up for a QB.
No. 19 – Jack Conklin, T, Michigan State
One of the best fits in the draft, Conklin is a powerful run blocker best used in a power scheme and that's exactly how Buffalo wants to play offensively. Conklin is no slouch in pass protection either, allowing only 25 pressures on 849 snaps the last two years.
No. 49 – Su'a Cravens, LB, USC
A tweener prospect, Cravens is more linebacker than safety and while there may not be a clean fit in Buffalo's base defense, he projects as a nickel linebacker in their scheme. He's strong against the run with sound instincts in coverage.
No. 80 – Joshua Garnett, G, Stanford
Rex Ryan officially loves this draft as he now adds perhaps the best pulling guard in the class in Garnett. It's a perfect fit for the Bills who love to pull their guards in the run game, and Garnett has plenty of experience in Stanford's scheme where he posted the second-best run blocking grade in the nation last year.
No. 19 – Shaq Lawson, DE, Clemson
Given his productivity and well-rounded game, Lawson would be a good get in this range. The Ryan brothers have to get the defense turned around or they could both be elsewhere in 2017, and Lawson is the kind of player who can get on the field early and help.
No. 19 – Andrew Billings, DT, Baylor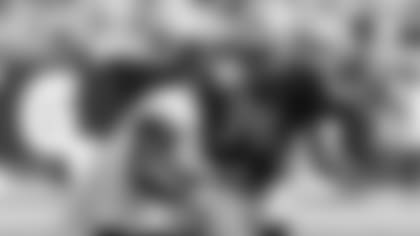 For a team coached by Rex Ryan and coming off a season of disappointing production up front, there simply appears to be too many versatile defensive tackles to look elsewhere in Round 1. Billings would round out the Bills' interior, plus could free up Marcell Dareus to attack away from the ball.
No. 49 – Su'a Cravens, LB, USC
No. 19 – A'Shawn Robinson, DL, Alabama
With both Darron Lee and Reggie Ragland off the board, some sort of defensive lineman could get an extended look by the Bills. Many have linked the Bills with Jarran Reed, but in a league that features base defenses less and less, I don't believe he's even the best fit from his own college defensive line. Reed is a two-down run-stuffer, which serves a purpose. However, with the potential and versatility that A'Shawn Robinson provides, he becomes someone to keep in the front of your mind as a potential Bills pick. Robinson can play five-technique defensive end in a 3-4, he can slide inside to nose tackle, he can be a defensive tackle in even-man fronts, too. Basically, with a combination of Robinson and Marcell Dareus, you can move both pieces all over the place along the defensive line. Plus, with Kyle Williams and Corbin Bryant both entering the final year of their contracts, it would be prudent for the Bills to act now on the defensive line.
No. 49 – Keanu Neal, S, Florida
A different position for the Bills with their second-round pick than I've done in any of the other mock drafts, but, the value makes the most sense here. The Bills are depending on Aaron Williams to play this season -- that much is certain. Past him, there are quite a few questions in regards to that position. Corey Graham, in his first season as a safety, struggled to adapt to the life at that position. The Bills found out early in the summer that Duke Williams wouldn't be able to help them defensively, and they walked away from Bacarri Rambo. The team did add Robert Blanton to compete for a job, but, he's only signed for one season. Keanu Neal is one of the biggest hitters in the draft, and also one of the better athletes from the safety position. His 132-inch broad jump and 38-inch vertical shows just how explosive of a player he is, and he could push to be the complementary option to Aaron Williams, or whoever the Bills deem ready enough to start. A competing inside linebacker for Zach Brown can be had in the third or fourth round.
No. 19 – Jarran Reed, DT, Alabama
Rex Ryan builds his defense around the big bodies in the trenches. Reed is a destructive force with the size, athleticism and energy to wreak havoc from multiple spots on the interior
No. 19 – Kevin Dodd, DE, Clemson
Dodd had a very strong 2015 with 12.0 sacks and we are just beginning to see how talented he is. Buffalo needs a pass rusher and he is the best one available. It wouldn't surprise me if he went higher than this.
No. 19 – Noah Spence, DE, Eastern Kentucky
Some teams won't consider a risk-reward prospect like Spence in the first round, with his character red flags—two drug-related suspensions at Ohio State—making him an iffy proposition. But the Bills and Rex Ryan have shown they're willing to take chances if the talent is special enough, and Spence has first-round pass-rushing ability. Buffalo needs more burst off the edge if it's ever going to chase down New England in the AFC East. For similar reasons, Mississippi defensive tackle Robert Nkemdiche is likely on the Bills' radar screen as well.