It was a small, tangible reminder for all his players.
As year three under head coach Sean McDermott got underway in earnest with the start of the offseason conditioning program, Bills players were each given a carabiner clip.
Often used by rock and mountain climbers the symbolism was obvious. If it wasn't, printed on the face of the carabiner were two words.
"'The Climb' to me is what real growth is about," McDermott said. "That first year (2017) was awesome, emotional. It's like dating. At first, you're in the honeymoon phase and it's great. There might be some trouble there, but it's in the background. When you really start to have those hard conversations that's where growth takes hold even if you can't see it all the time. That was year two for us. Kind of a test as to how strong we were. I felt like last year was tough at times, but necessary. Now everyone knows what we expect. Sustained success is about tangible growth."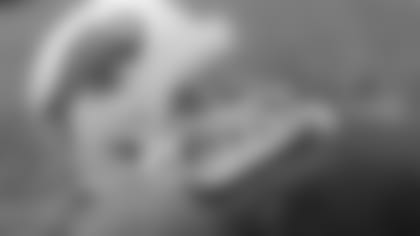 The 2019 season for McDermott and his Bills roster is full of promising expectations after a very busy offseason that reshaped the offensive line, the receiving corps and tight end position. There were other free agent additions for the defense, as well as top draft choice defensive tackle Ed Oliver. There was also a concerted effort to upgrade the special teams unit with players and a new coordinator in Heath Farwell.
Buffalo's roster appears to be in a position to make the ascent to perennial playoff contender status, but Buffalo's head coach and his staff know there is a lot to pull together to make it all work efficiently and consistently week to week.
"I would expect that we will be a better team and a more sustainable, harder out this year than we were in the previous two years," he said of his 2019 squad. "But like last year, we had a lot of changeover on the roster again this offseason. Maybe half the roster by the time the roster is pared down will be new. Even though I feel like we're maturing and growing and the foundation is getting stronger all along, it's still a big changeover."
McDermott has seen the challenge that degree of change can present to a club as it tries to gain traction and ground on the premier teams in the conference.
"When you look at the teams over the years that have had success, like New England, the continuity factor is big," he said. "So the more we're around one another, the better we become because we know what's expected and we know each other's moves and our actions and reactions on the field. So that takes some time (with the new changes we've made). I do feel like the early chapters of getting more of the right people on the bus, that process is well underway at this point. I'd say we're made up of 90 percent of the right guys on board."
And McDermott is asking those players to 'rope in' for a climb he feels can now be made in a sustainable way. Something his 2017 team was not in a position to do despite overachieving and reaching the postseason.
The salary cap burden coupled with some cost prohibitive contracts that had to be moved off the roster forced the club to rely on a lot of young talent to play a lot more in 2018 than one might see on a team with a more stable fiscal situation and roster.
But after biting the bullet last year, general manager Brandon Beane helped revamp the roster to give the team a genuine opportunity to make a move up in the AFC pecking order. The upgrades on offense now surrounding burgeoning quarterback talent Josh Allen, should serve to bring Buffalo's offense out of the depths of the league rankings on that side of the ball.
Couple that with a defense that finished second in the league last year, made some good additions and is returning 10 of 11 starters, and things appear as promising as they have been in some time in Buffalo.
Now is the time to pull it all together.
"You don't want to be changing over (the roster) as much as we have," McDermott admitted. "But now that we've made those changes, and they were necessary, now we have to build continuity."
So although the level of talent has been upgraded, the standard of 'Playoff Caliber' is ingrained and the mantra of 'Respect the Process' is uniformly revered, the work for McDermott, his staff and the players has only just begun.
"The building phase we're in now also requires a mindset," he said. "Before you win, the belief has to be there, the habits have to be there. If we continue to do things right, the mind has to come now where we expect to win. We respect all our opponents, but the mindset and that winning expectation that precedes them has to come as well. We've laid a foundation and we were making progress. Now we're on the climb."
As the Bills continue 2019 OTAs, check out photos of each of the 91 players on the team.