1 – First team defense locking it down
Through three days of training camp, Buffalo's first team hasn't just been solid, they've been downright dominant. Granted they have an advantage of being in the second year of their defensive system, while the offense is in year one while also conducting a three-man quarterback competition, but the offense is being challenged by Leslie Frazier's group on every single play.
Two of the bigger plays turned in by the defense on Saturday were interceptions by Jordan Poyer and undrafted rookie slot corner Ryan Carter.
Carter's pick came during team work from the 30-yard line going in. On the last play of the segment, Carter was assigned to cover Austin Proehl in the slot. Proehl took his route to the front right corner of the end zone, but Carter was step for step.
The throw was a bit behind Proehl however, and Carter, who appeared to be using trail technique made a diving interception for the turnover.
Jordan Poyer's INT came in much the same way many of the takeaways did for the Bills last season, off a tipped ball.
"It was third and maybe five or six on the eight-yard line," said Poyer. "You put Kelvin out there and he's 6-5, 6-6 and it's almost a mismatch every time no matter who is guarding him. Vontae (Davis) made a hell of a play on the football. I was just doing my one eleventh running to the football like they always preach. Vontae made a great play and I was there for the tipped ball."
The pass from Josh Allen was on target, after Davis appeared to disrupt Benjamin's efforts to pull the ball in. Benjamin bobbled the ball, which popped out of his hands and away from him. Poyer was there to pull the ball in for the pick in the end zone.
The first team defense has really made life difficult for the offense through the early stages of camp. Brian Daboll's unit is sure to close that gap as the days move along, but the defensive unit's consistency represents a raised standard from last year's success.
"We have very high expectations for ourselves whether people outside of the building believe so or not," said Poyer. "We're all just doing our one-eleventh. Trust the guy in front of you and trust the guy next to you. We have a great group of guys not just in the huddle, but in the defensive room. Everyone has bought into the system and our standards. We have to continue to grow and there will be days where we might feel we had a bad day and we have to learn from those mistakes. It's never perfect. Every day there's something to correct and grow from."
2 - Rookies getting run with the ones
Last season Buffalo's rookie draft class made a sizable impact on the team's fortunes last season. Tre'Davious White, Dion Dawkins and Matt Milano were the most prominent players. In the early going of training camp it looks like there could be another trio of rookies who see a lot of time on the field.
While Tremaine Edmunds is a foregone conclusion at the starting middle linebacker position, Harrison Phillips and Taron Johnson have clearly made good early impressions on the defensive staff.
The past two days, Phillips has been the first defensive tackle rotating in to relieve Star Lotulelei as he's seen some rotational reps with the first team unit.
Meanwhile, Johnson, who is in a battle with veteran free agent signee Phillip Gaines for the nickel corner job, was moved up to the first team nickel spot on Saturday.
Johnson was also used in the slot with the second team as the coaching staff evidently wants to get him as much time on the field as possible in that role.
"It's a blessing. I'm just trying to get my reps in," Johnson told Buffalobills.com. "I want to see what I can do with this exciting opportunity to make plays."
"Taron is getting some work in that nickel job and that's a tough job in this defense, which is really like playing safety with probably a little more athletic ability being in the slot," said Poyer in terms of the position responsibilities. "Taron is able to do that. He's still young and has a lot to learn and we try to help him as much as we can to have him ready because when his number is called we're going to need him to be ready to play."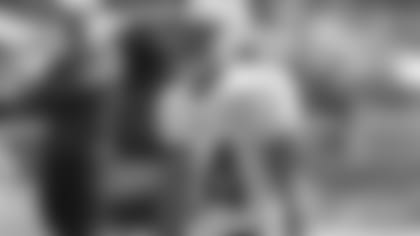 3 - New kickoff rules demand new approach
The special teams unit spent a good deal of time on kickoff plays in practice Saturday. The new kickoff rules being imposed by the league will dramatically change the look of the play, with only three players allowed to line up deep and two-man wedges now prohibited, prompting single blocking only.
"That's going to be a big, new play, if you will, to watch in our game," said McDermott. "Again, we have to adjust. We've spent countless hours amongst our staff, (special teams coordinator) Danny [Crossman] in particular [and] myself as well as (special teams assistant) Matt Smiley, trying to, number one, understand and get clarity around the rules and then also as it pertains to this rule. Also, strategizing around what we can do projecting what we may see or not see."
"Obviously it's going to be a drastic change," said veteran Lorenzo Alexander. "The timing is going to be different. How you make plays is going to be different. There should be a little more space for returners. So, it's going to be a learning curve for both coaches and players."
Look for the preseason game to be a major testing ground for how to best approach the new kickoff play under the new rules.