Training camp is a time that's full of chances for so many players on the Buffalo Bills. Whether it's a fight to make the 53-man roster or a chance to earn playing time, every practice matters. Safety Jaquan Johnson is one player who's trying to make the most of his opportunity right now.
Johnson has had a high-volume of reps this training camp due to safety Jordan Poyer missing practices with an elbow injury. While Johnson and the team are looking forward to getting Poyer back and healthy, the four-year safety is soaking up every moment and learning what it takes to be a starter.
"It's different from having reps with the twos so just using communicating, having them hear my voice and making the right checks so the guys can start to trust me," Johnson said. "That's basically what I've been focusing on. And the plays, they'll eventually come once I put myself in position but for the main part, I'm just trying to communicate how Po (Jordan Poyer) or Micah (Hyde) would if they were out there."
Poyer and Hyde have also played a big role in helping Johnson feel ready for the uptick in reps.
"Those guys are always giving me a sense of courage and wisdom, telling me about the defense, telling me to control what I can control," Johnson shared. "Po (Poyer) always says I'm like him. He was figuring it out on defense and special teams. And then when he finally got his shot, he was able to capitalize."
Safeties coach Jim Salgado has been coaching up the secondary since before Johnson was a part of the team and has enjoyed watching the safety seize the moment.
"It's been great to see him grow, take on that leadership and communication part of it," Salgado said. "Those are the things that we're talking about with him, so that whatever the calls are making sure that he's the quarterback of the defense. Having that opportunity in the spring and right now even, he's getting a lot of reps with the way things are going. So, it's good for him. And it's going to be a great opportunity this Saturday to go out there in the first preseason game."
The Miami product is in his final year of his rookie deal and knows just how important live reps are and plans to put meaningful tape together come Saturday.
"It's everything," Johnson said of the importance of getting reps. "It doesn't happen overnight. This is my first time getting this many reps and this is my fourth year, so I've just got to stay grounded, keep my head down and keep working."
Saturday's preseason game against the Colts won't be Johnson's first time seeing the field. He started in one game last season and recorded his first career interception. On top of that, Johnson has held a big role on special teams since being drafted in the sixth round of the 2019 NFL Draft.
"He's been a valuable special teamer for us since he got here," Bills general manager Brandon Beane said. "That's probably how he made the opening roster was not as safety but as a four-core special teamer."
"Special teams is a big part of making the team and even sparking the game up," Johnson shared. "Special teams is pivotal to the game and can change the game in so many ways. When I think about special teams, I think about it as an actual starting job."
Johnson's goal is to one day be a starting safety in the NFL. The four-year player has had to be patient since he is playing behind two All-Pros but knows what it's like to wait for an opportunity. During his college playing days, Johnson didn't get a chance to start until his junior season at the University of Miami because he was playing behind upperclassmen.
"I'm just playing my role and waiting for my opportunity," Johnson explained. "I've always been able to handle adversity well. I can contribute in different ways to the team whether it's being a personal protector on punt, kickoff, being a four-phase guy. And then once my number is called, I'll be ready and will accept the challenge."
When Johnson accepted the challenge at Miami, it turned into him leading the team in tackles and earning multiple ACC Defensive Player of the Week awards. The safety believes if he works hard enough just like he did in college, things will fall into place.
"The only thing I can control is my attitude and my effort," Johnson said. "Everything else will fall into place. I'll keep doing my job whether Po's (Poyer) out there, Micah's (Hyde) out there, I'm out there, Damar (Hamlin), whoever's out there I just keep doing my job and control what I can control. I feel like everything always falls into place. I mean, it did my whole life. That's why I'm here."
"He's not afraid," Beane said. "It's not too big for him. He knows his role. And he knows part of his role is to be ready should something happen to Micah (Hyde) or Jordan (Poyer). And Jaquan Johnson has never let us down, and I don't see him ever doing that."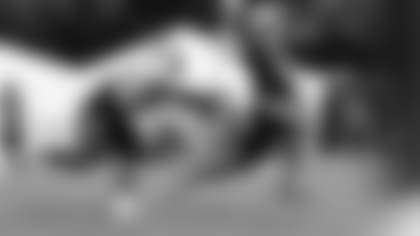 Johnson doesn't want to let anyone down because of how he was raised. He says he owes a lot to his parents who helped him become the man he is today.
"My family and my kids, that's everything to me," Johnson shared. "And I carry them everywhere I go, in my heart, in everything I do. So when people approached me and see me, I want them to see I've been raised by the right parents, Walla Jackson and Jarrid Johnson. It takes a village. I had a lot of people help me along the way, and I didn't want to disappoint anyone."
The husband and father of two hopes to extend his stay with the Buffalo Bills but no matter where his career takes him, he knows he won't stop fighting to earn a chance at a starting role.
"I come from a family of six, including me it's seven," Johnson shared. "I'm the middle child. My entire life, all I had to do was work and fight for everything that I got. I wasn't the biggest. I wasn't the fastest.
"But I had heart and I had talent that God gave me, and I used it. Jaquan Johnson is somebody who everybody will be looking up to soon whether it's this year, next year or the year after. I'm never going to stop working. I'm relentless."
For now, the safety who is well-liked by his teammates is trying to put together his best tape with a big opportunity on Saturday against the Colts.
"Me playing my best is me just playing free, communicating, flying around to the ball, making plays whether it's interceptions, tackles for loss or hard hits," Johnson said. "I think that's when I'm doing my best, really just doing my job, not forcing anything because once you start forcing things that's when everything goes wrong. Just doing my one eleventh like coach McDermott says, that's when I'm playing my best ball."