1. The Thomas family takes on camp
For tight end Logan Thomas' wife, Brandie Thomas, attending Bills Training Camp, presented by Connors and Ferris, with her four boys, and a fifth child on the way, feels like second nature.
"I don't really mind doing the drive because they love being here and watching him," said Thomas.
Thankful that her children love what their father does for a living, Thomas wants to give them every opportunity to support him.
"It's worth it really, when you think about it, some people drive an hour and a half to work every day, so I don't mind doing it," she explained.
One would think that with four young children, mornings can be hectic but she views them as a team effort.
"The little ones help me watch him [the youngest boy] while I get ready and then they put him in the car and know exactly what we've got to bring to camp, so we all work as a team."
Thomas, who seemed happy to be spending time with her family, made juggling four children and the commute to camp seem effortless.
2. White repays his mother in a big way
Bills cornerback Tre'Davious White has endured hardships in his life. As he recalled in a recent Instagram post, there was a point in his childhood where there was not a guarantee there would be electricity or water in his home and having to go to the neighbor's house just to bathe and wash clothes. His dream, however, has always been to make his mom more comfortable than he was growing up. This past week, White was able to live out this dream.
"Now finally my mission is complete," said White after he purchased his mom a brand-new home.
White recognizes that his struggles have defined who he is today and what made this moment special.
"I hope this house can hold you for a few more years because after that my plan is to build you a home from the ground and you can design it the way you want," he explained.
While White is grateful for the opportunity to carry out his childhood dream, he's even more ecstatic to share his success with his family.
"I've achieved my dream and now it's about making sure you and the rest of the family get to see and do things we never imagined."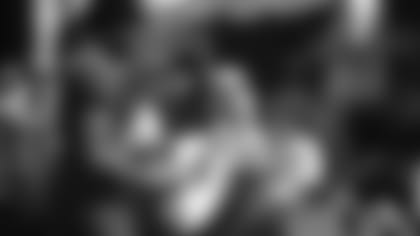 3. Camp Good Days enjoys practice
Gary Mervis, founder of Camp Good Days, a camp that benefits children battling cancer, is proud to be celebrating the organization's 39th summer in operation. Mervis, who started the foundation because his daughter Elizabeth "Teddi," courageously fought the disease for years, realized that the most difficult parts of the battle were not the ones he anticipated.
"It soon became very evident to me that the toughest part of Teddi's battle…was the loneliness," explained Mervis.
Mervis desperately wanted to find a way to give his daughter an experience that was pure fun - where all she needed to think about was being a kid. After learning how many children were in a similar position as Teddi, Mervis set out to start a summer camp and thus, Camp Good Days was born.
"We didn't have a name, money or any volunteers but we had a dream and here we are 39 years later," said Mervis.
Mervis and Camp Good Days have been coming to camp every year since it moved to St. John Fisher College in 2000. He sees it as a great moment for the children to connect with players and have a one-of-a-kind experience.
"If it wasn't for this, they would never have the opportunity to see these players up close in person," he told buffalobills.com.
Mervis is thankful the chance to bring his campers and see their faces light up as they meet players and get an autograph or a photo.