Dion Dawkins' surprise visit ![](http://bufbills.co/WL9fRz)
From traveling to Brazil to training with teammates, tackle Dion Dawkins has already had quite the offseason and he isn't slowing down yet. Friday March 23, Dawkins made a surprise visit to Grice Middle School in Hamilton, New Jersey, to attend a community outreach program presented by E.N.D.U.R.E- STEM Meets Sports. The program utilizes professional or collegiate athletes to lead fun, hands-on activities centered around science, technology, engineering and mathematics.
In between knockout basketball games, Dawkins took time to remind the students that he is just like them.
"I just like talking to them and letting them understand that I'm just as normal as they are," stated Dawkins in an interview with David Foster for The Trentonian paper.
Lorenzo Alexander's bowling event for a cause
Linebacker Lorenzo Alexander's ACES Foundation 11th annual Celebrity Bowling event was a tremendous success! Held near his hometown in Albany, California, the event helped fundraise for upcoming ACES Foundation initiatives. The ACES Foundation provides enrichment programs to youth groups and emphasizes the importance of a healthy lifestyle through sports.
"[The bowling event] creates an opportunity to reconnect and establish relationships with friends, family and the community," stated Alexander "It's great to be able to give back but when it's a collaborative effort the impact is much deeper."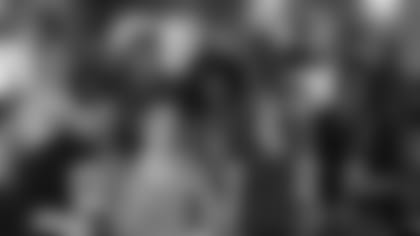 From Capitol Hill to Smyrna Elementary for Ferguson
After a recent trip to Capitol Hill with his brother for a Team Tackle conference, long snapper Reid Ferguson continued his week of advocacy by speaking before members of the All Pro Dads group at Smyrna Elementary. There he opened a group discussion about encouraging kids on and off the field, and even made a little friend!
Jordan Mills' Easter egg hunt
For the fifth year in a row, tackle Jordan Mills is hosting an Easter egg hunt on Saturday, March 31, in his hometown of Napoleonville, Louisiana. The free event provides kids of all ages and their parents a day filled with fun activities, including bounce houses, food and even some Bills prizes. Families in attendance enjoy the opportunity to spend quality time together and a chance to get to know a professional NFL player.
"Where I am from, kids don't really get the opportunity to get out and have fun like that," stated Mills. "I just try to do something fun for them so they can get out of the house and they don't have to worry about paying. [To give them] an opportunity to meet with people to look up to and motivate them. It's a great experience."
Keep an eye out for Charles Clay's football camp!
Little Rock, Arkansas native and Buffalo's tight end Charles Clay is hosting his third annual free football camp! The camp provides children between grades one and eight the opportunity to learn football fundamentals from one of Buffalo's best. ![](http://bufbills.co/VORVNg)