How Brown's texts to Vinny Rey fueled big win
It's no secret that the stakes were high for the Bills going into their Week 17 game in Miami. Not only did the team need to handle their own business, they needed some help from a familiar opponent – the Cincinnati Bengals. For Bills linebacker and Cinci native Preston Brown, the unique circumstance gave him an opportunity to connect with a few of his friends on the Bengals, including fellow linebacker Vinny Rey and former Bill Carl Bradford.
Brown developed a relationship with Bradford during their time playing together for the Bills and spent time training with Rey in Cincinnati. Looking to encourage his friends, Brown sent a few good luck texts their way during the week.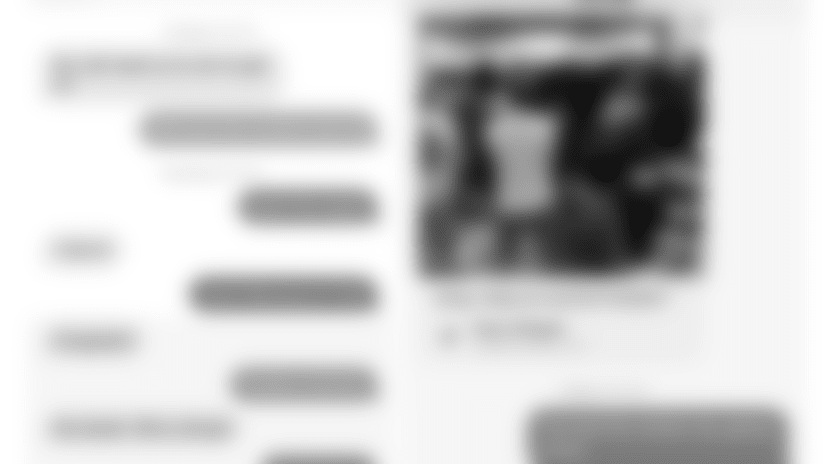 "Carl was here during camp and me and Vinny have the same agent...So I was texting them [and] telling them to get the win," said Brown. "Vinny Rey actually got the tackle on fourth down to seal the game."
After Buffalo's playoff berth was solidified, Brown didn't hesitate to shoot appreciation texts their way.
"I'm still texting Vinny right now, said Brown. "[I'm saying] just thank you. A lot of thank yous. It was a big win for them and it helped us propel this franchise into the playoffs."
Advancing to the NFL postseason for the first time is surreal for Brown, whose life has now come full circle.
"It was definitely fun," he explained. "Growing up in Cincinnati you saw a lot of Bengals games that were lost like that, so for them to get a big win, Andy Dalton had a great pass and now they're my best friends."
Bills fans pay it forward to Andy Dalton
It was a long time coming, but for Bills fans, the celebration that ensued after Buffalo clinched a playoff berth didn't disappoint. The news sent the Bills faithful into a frenzy that nearly broke the internet. Bills fans across the country took to social media to express their thanks not only to the Bills, but to Bengals signal caller Andy Dalton.
Dalton, who staged a comeback late in the game, quickly became a hero to Bills fans everywhere. To repay him for his efforts, some Bills supporters went the extra mile by donating to Dalton's foundation – the Andy & Jordan Dalton Foundation. Dalton and his wife started the foundation in 2011 to provide assistance to ill children and their families in Cincinnati and Fort Worth. Overcome with excitement and appreciation, Bills fans donated in $17 increments. With the help of 7,000 donors, the total has climbed to $170,000!
The kind gesture has been well-received by Dalton and his foundation. Fans can still get involved by clicking here.
Hughes extends huge thanks to former Frog
Like Bills fans, linebacker Jerry Hughes was eager to say thank you to the Bengals. Hughes, who played college ball with Dalton at TCU, was grateful to his former teammate for the inspired performance that pushed the Bills into the playoffs. Christmas may be over, but Hughes is determined to reciprocate Cincinnati's gift in any way he can.
"Whatever he wants, I'm going to be his Secret Santa for the rest of this week," said Hughes.