1. Takeo Spikes: Football legend and flourishing photographer
Although his football career has come to have end, former Bills linebacker Takeo Spikes continues to pursue his passions. As featured on the NFL Network's "Life After Football," Spikes has utilized his love for photography to stay connected to the game and to share unique stories. In an interview with Melissa Stark, Spikes explains that his interest in the art developed in high school and has since helped him start a new chapter in his life.![](http://bufbills.co/WL9fRz)
"You can't replace it [football] but I find things to occupy my time that I love doing, that still has some affiliation with the game," said Spikes. "When I was in high school, my mother was great at capturing moments…she got me hooked on photography."
Spikes' creativity has come to life in a new book, "Behind the Mask." Photographer and co-author of the piece, Spikes captures his audience's attention with powerful imagery of some of the NFL's most iconic linebackers. 
2.   Southern Tier Brewing Company's Bills Speakers Series event features Q&A with Kim Pegula
The third installment of the Buffalo Bills Speakers Series, presented by Southern Tier Brewing Company, recently offered Bills Season Ticket Members, Sponsors and Suite Holders a behind-the-scenes look at the life of Owner Kim Pegula. Held in downtown Buffalo, the unique event allowed the group to hear directly from Pegula in an intimate setting. After sharing stories about her childhood, career path, family life and current role, Pegula further engaged with the audience through a question and answer segment.
Not only did the evening provide insight for the attendees, it afforded them and the Bills staff a chance to forge lasting relationships.
"It gives our Season Ticket Members an opportunity to hear from the people who are making the decisions and are running the organization – whether it's coaches or in this case Kim Pegula," said Chris Colleary Vice President of Ticket Sales and Service. "The intimate setting is also a great for our staff to get to know our Season Ticket Members better."
The Buffalo Bills Speakers Series, presented by Southern Tier Brewing Company, has one event remaing this year. Season Ticket Members interested in a membership or more information can contact their Bills Account Representative.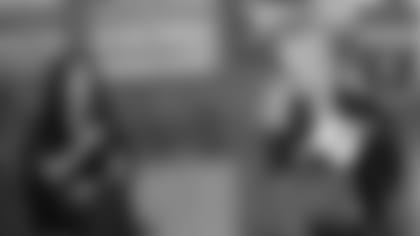 3. Thurman Thomas gets back to his roots
Thurman Thomas' stellar NFL career is one that continues to inspire young athletes today. Although the Hall of Famer will go down in history as one of the greatest ball carriers that ever graced the NFL gridiron, Thomas will always remember where he got his start – Oklahoma State University. Paying a visit to his alma mater this weekend for the Bedlam Series, the team's big rivalry game against Oklahoma, Thomas will cheer on the Cowboys in the place that changed his life forever.