1 - Bruce Arians: Josh Allen's game is growing
When a quarterback catches the eye of a coach that's worked with Peyton Manning, Ben Roethlisberger, and Andrew Luck, that signal-caller is likely doing something right.
Former NFL head coach Bruce Arians has been impressed with what he has seen from Buffalo quarterback Josh Allen in his rookie campaign. Allen, who has accounted for a total of 2,139 yards this season, has been particularly impressive on the ground, according to the two-time AP Coach of the Year.
"I love his athleticism," Arians said during an appearance on One Bills Live. "I think he's growing as a player. He's obviously got a strong arm, and with those young receivers, they're putting it down the field. He's not afraid to run, I think he needs to start becoming more careful.
"Like all young quarterbacks, they have to try to win over their locker room and show everybody how tough they are. I think he's already done that, so it's time to step out of bounds, slide a little more, and just protect himself."
A former signal caller himself, Arians is widely looked at as a quarterback guru, someone who has worked with some of the greatest passers to ever lace up a pair of cleats. His praise of Allen definitely comes with some bearing, as the two-time Super Bowl champion was around elite quarterbacks throughout the majority of his coaching career.
Arians has already seen considerable progress in Allen's game, something that has him incredibly excited for the rookie's future. The retired sideline boss feels as though Allen has already grown more comfortable in the pocket.
"I think that's the part that he continues to improve on," Arians said. "You know, getting down to his second, third reads, checking some balls down instead of taking off and running. But he's so successful at it, I'm sure that's why he's doing it. But just continue to grow as a quarterback and processing information quickly. I love when rookies are playing, because that's the only way to learn."
2 - Foster a Top 10 WR since Week 10
A short stint on Buffalo's practice squad allowed Robert Foster to turn complacency into confidence.
The undrafted wideout, who made the Bills' 53-man roster out of training camp, was demoted to the scout team after an uninspiring six-game stretch in which he caught just two passes for 30 yards. Though disappointed at the time, the wake-up call from LeSean McCoy motivated Foster, making him realize that he had to alter his preparation at the NFL level.
Once Foster returned to Buffalo's active roster in Week 10, he was determined to make the stay permanent. He looked like a new player when he returned to the lineup, consistently displaying the physical gifts that initially secured him a spot on the roster. Throughout the past five games, Foster has carved out a starting spot on the Bills' depth chart, reeling in 17 passes for 438 yards.
According to Pro Football Focus, Foster has been one of the best receivers in the league since his Week 10 return. His offensive grade of 83.6 is the sixth-highest among all receivers over that span.
Notable receivers that Foster tops on the list include Michael Thomas, Stefon Diggs, and Tyreek Hill.
Foster also comes in at number six on a different list - receiving yards by a rookie wideout. He's now only 231 yards removed from Calvin Ridley, who currently leads all rookie receivers with 699 yards.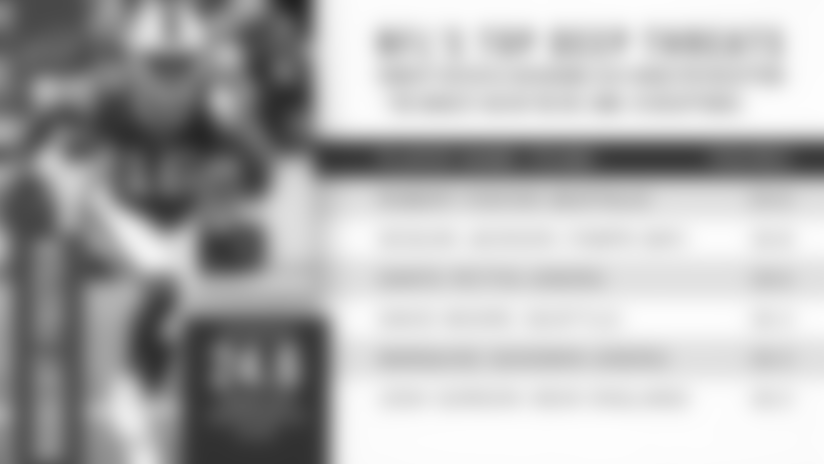 3 - New Bills WR thinks he has 'elite returner' potential
The Bills added more youth to their receiving corps this week, signing second-year wideout Victor Bolden off San Francisco's practice squad.
Bolden, who has just one career reception, likely won't see many snaps on offense throughout the remainder of the season. Instead, the shifty 5-foot-8 athlete could see time on special teams, either as a kick or punt returner.
Bolden has proven to be an effective returner in the past. While he has returned punts at the collegiate and professional levels, Bolden is seemingly more proficient as a kick returner. Throughout four years at Oregon State, Bolden returned 108 kicks for 2,420 yards, good for an average return of 22.4 yards. He returned 19 kicks for 396 yards as a 49er last season.
Finally back on an active roster after being demoted by San Francisco in October, Bolden is eager to make an impact.
"I just pride myself on trying to make plays for my team, man," Bolden said. "I do anything I can to make that happen. Just have to go out there and be confident in my abilities and trust my coaches and make plays.
"I think I can be an elite returner in this league. I'm just so thankful for Buffalo giving me a chance to do that. I'm just going to go out there and show what I can do."
Buffalo head coach Sean McDermott has yet to confirm whether or not his new acquisition will see time on special teams. If he's asked to return a kick or punt, however, Bolden will be prepared.
"I like both [kick and punt returns], honestly," Bolden said. "They're both kind of different, there are things that I like about both of them. I wouldn't mind doing one or the other, I wouldn't mind doing both, it doesn't matter."
SOCIAL MEDIA POST OF THE DAY