No. 19 – Jarran Reed, DT, Alabama
The Bills' defense was a major disappointment last fall and Reed is a plug-and-play guy.
No. 19 – Emmanuel Ogbah, DE, Oklahoma State
Following a disappointing performance from the Bills' defense, Rex Ryan could turn to the draft to add a versatile defender with the potential to contribute as a run stopper or pass rusher from multiple spots.
January 14: ESPN.com (Insider), Mel Kiper](http://espn.go.com/nfl/insider/story/_/id/14551791/mel-kiper-releases-first-mock-draft-2016-nfl)
No. 19 – Jonathan Allen, DE, Alabama
Will there be a tandem under more pressure to see improvement out of a defense than the Ryan brothers in Buffalo? It's probably not close. Allen is a good get at this slot; he's a versatile D-lineman with the frame to win with quickness on occasion but also push the pocket from the interior. The Bills are going to need to retool on the D-line even beyond the draft, and Allen would be a solid addition.
No. 19 – Robert Nkemdiche, DE, Mississippi
Rex Ryan has always favored versatile defensive players, which could draw him to Robert Nkemdiche. At Ole Miss, Nkemdiche often lined up as a defensive tackle but also has the athleticism to shift to the edge in Ryan's hybrid defensive scheme. The issue with Nkemdiche's draft stock is determining how teams will view his off-field issues following his arrest for marijuana possession prior to the Sugar Bowl. 
In his most recent big board, ESPN's Mel Kiper dropped Nkemdiche a few spots, acknowledging that "many around the league ask about where he's at with off-field questions."
No. 19 – Jack Conklin, T, Michigan State
Another pick that remains the same, Conklin fits the mauling, run-blocking profile that head coach Rex Ryan his looking for. He's ranked fourth as a run blocker each of the last two years and he finished 2015 with only 11 pressures surrendered on 416 attempts.
No. 19 – Jack Conklin, T Michigan State
This pick is assuming the Bills don't re-sign left tackle Cordy Glenn. If not, Conklin could be brought in as a rookie starter to protect Tyrod Taylor.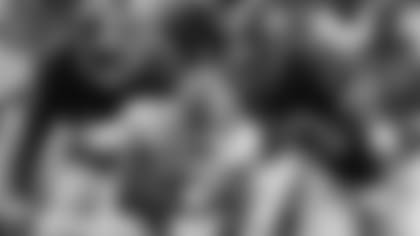 No. 19 – A'Shawn Robinson, DT, Alabama
The vaunted Buffalo defense looked mediocre at times this season with many claiming that Rex Ryan's scheme was the issue. Robinson is a player who transcends scheme and would give Ryan a player who can play anywhere on the defensive line.
No. 19 – Taylor Decker, T, Ohio State
Head coach Rex Ryan and general manager Doug Whaley will both be back in Buffalo next season, and one of the main focuses for the duo has to be addressing the offensive tackle position. Left tackle Cordy Glenn is talented, but he's also a free agent. Opposite him, Seantrel Henderson and Cyrus Kouandjio have played enough to prove they're not ready to hold down a starting job long term. With huge question marks on the ends of the line, the Bills would be wise to use a first-rounder on a tackle. Taylor Decker plays left tackle at Ohio State, but he has the tools to line up at either left or right tackle in the pros. He's long, physical, powerful and well coached coming out of the Buckeyes offense. Decker, unlike Henderson or Kouandjio, is ready to step in right away in Greg Roman's offense.
No. 15 – Darron Lee, LB, Ohio State
Rex Ryan's defense in Buffalo this year has performed worse than Jim Schwartz's did the previous season. I'd be surprised if Mario Williams is back as a Bill next year, too, with his contract and production this season. Lee is small for an NFL linebacker (235 pounds), but flies all over the field and can rush the quarterback. Good fit for a Buffalo team that's still just a few pieces away.
No. 18 – Taylor Decker, T, Ohio State
There's a clear top tier of offensive tackles this year (Tunsil, Stanley, Conklin and Decker) and then a big drop-off after that, so I don't expect the fourth guy to last too long. At 6-7, 320 pounds, Decker has long arms and above-average feet for his size. NFL teams should like his toughness, while his inconsistent pad level and hand placement continue to be areas for improvement.