No. 19 – Jaylon Smith, LB, Notre Dame
This selection comes with some risk because of Smith's knee injury, but if the Bills' doctors clear him, Smith would be a great pick. He took his game to the next level this past season and is an elite athlete. Smith has experience playing inside and outside and would fit well as the weakside off-ball linebacker in Rex Ryan's defense. Other options here: Alabama DT Jarran Reed and Ohio State OLB Darron Lee.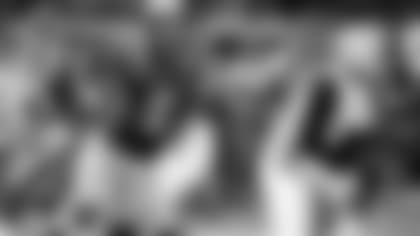 No. 19 – Robert Nkemdiche, DT, Ole Miss
The Bills probably should be looking for help on offense with this pick but as long as Rex Ryan has a say, the defensive line will get plenty of attention. Powerful and used to double-teams, Nkemdiche has the size and strength to be the defensive end Ryan had hoped Mario Williams would be. He's also quite athletic, boasting perhaps the most exciting raw talent as any defensive lineman in this draft. Ryan has never been one to shy from talent, even if it comes with red flags, as Nkemdiche does.
No. 19 – Jack Conklin, T, Michigan State
Another pick that remains the same, Conklin fits the mauling, run blocking profile that head coach Rex Ryan his looking for. He's ranked fourth as a run blocker each of the last two years and he finished 2015 with only 11 pressures surrendered on 416 attempts.
No. 19 – A'Shawn Robinson, DT, Alabama
Robinson may not be a high-level pass rusher coming out of Alabama, but he can do enough in that area to help the Bills. Robinson is a highly regarded defensive lineman, who Buffalo can use in multiple ways. The last time Buffalo took an Alabama defensive lineman it worked out well with Marcell Dareus, and it should with Robinson, as well.
No. 19 – A'Shawn Robinson, DT, Alabama
Is it even fair to think about A'Shawn Robinson playing next to Marcell Dareus? That is a beast that would make most quarterbacks cringe and give Rex Ryan a massive smile. While it's not the biggest need for Buffalo, it's a tremendous value to bolster their already stout defensive line.
No. 19 – Darron Lee, LB, Ohio State
Darron Lee's potential is sky high. With Nigel Bradham a free agent and Manny Lawson on the other side of 30, it makes sense for the Ryan brothers to add another athletic linebacker into the mix.
No. 42 (Round two) – Shon Coleman, T, Auburn
No. 80 (Round three) – Pharoh Cooper, WR, South Carolina
No. 114 (Round four) – Connor McGovern, G, Missouri
No. 19 – DE Robert Nkemdiche, Ole Miss While the talent and the traits should dictate an earlier slotting for Nkemdiche, fears about his character could cause him to drop. Rex Ryan won't care.