Eleven months ago, Bills tight end Tommy Sweeney was diagnosed with myocarditis – a condition that causes inflammation of the heart. Sweeney didn't know if he would step back on a football field again or even resume life as he once knew it.
This week, Sweeney is preparing to be the Bills starting tight end in Sunday's game against the Dolphins. In less than a year, he has shown resiliency and has earned high remarks for his character from his coaches and teammates.
After all that he's been through, Sweeney won't let this opportunity pass him by.
"I'm ready," Sweeney said. "I've been in this offense for three years, up and down obviously with various things. But I'm excited, and I'm ready. Playing with Josh, playing with these guys, blocking on O-line for almost three years now. So, I'm excited about the opportunity, I have to keep as normal as possible and just go out and perform."
Sweeney is confident in his abilities on the football field and was able to have the luxury of a full offseason program this year to develop as a player. Draft preparation took up most of his time in 2019 – his rookie season. The 2020 was impacted by the pandemic and Sweeney also dealt with a foot injury. He spent most of this offseason in Buffalo working on his craft and was doing everything he could do to be ready when the opportunity presented itself.
It's now his time to shine and prove what he can bring to this Bills offense. Josh Allen has seen the work that Sweeney has put in and is confident he can step up in a big spot.
"He's probably one of the most interesting guys not just on the team but on the planet," Allen stated. "He's awesome to be around. He's one of those guys that's just consistently worked, kept his head down, and never complained. Doesn't have a whole lot of opportunities in the passing game, but when his number's called, he usually ends up making the play. … He's all about the team, and he wants to do whatever he can do to help this team win."
This starting opportunity for Sweeney is because of the unfortunate hand injury that Dawson Knox suffered in the Week 6 game against the Titans. In that same game, Sweeney caught his first career touchdown pass to the delight of all his teammates. Sweeney and Knox both came to the Bills in 2019 via the draft and have a close bond with one another. Since their arrival, the playmakers continue to help each other grow as players and as people.
Sweeney knows he has big shoes to fill with Knox bursting onto the scene early this season. He has the utmost respect for Knox and knows he'll be his biggest cheerleader from the sidelines.
"I can't really say enough about Dawson (Knox) as a guy, as a friend, as a teammate, and as a player," Sweeney said. "The guy has really battled through a lot and it's great to see what's been happening this year. He's done it in the past two years, obviously, five touchdowns in five games is really good. But it's awesome and just when one guy in the room plays real well, it elevates everybody."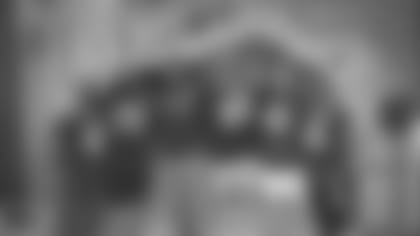 Sweeney has played in 12 games so far through his first three years in the league. He has 12 career receptions for 118 yards. Even with playing less than a season's worth of games, this team believes in what he can do and the player he can be. Sweeney got the vote of confidence from his head coach earlier this week.
"I have full confidence in Tommy, and I know the players feel the same way as do the rest of the coaches," McDermott said on Wednesday.
The players do feel the same way, just ask Stefon Diggs.
"I have 100% confidence in T-Sween," Diggs said. "He's a guy that has been here and I think he was injured last year. But he brings that route running, that technician, that hard worker, that blocker, he brings that mindset that we love on offense and just on our team in general. I love me some T-Sween."