It didn't take long for Robert Hanna, an Avon, New York, native, to declare himself a Bills fan. In fact, he's been one since the team was founded. Like many die-hard fans, Hanna, who has been a Season Ticket Member for over 40 years, grew up rooting for the Bills and has raised his kids in a similar fashion.
"I just grew up that way when they formed the team," he explained.
From the old Rockpile to New Era Field, Hanna prides himself on making the drive from Avon to support his favorite team each home game. Impressively, Hanna has only missed two games since 1971. Following in his footsteps, his daughter Crystal, who has been attending games since she was just four years old, has also only missed two games in the last 40 years.
A dedicated Bills fan just like her father, Crystal's affinity for the team started even before she was born.
"When we had the baby shower there in 1974 [was one of my best Bills memories]," said Hanna while reminiscing. "It [was for] my second [child], for my daughter. It was in October of '74 and my wife was there; she was seven months pregnant…They brought all the gifts and everything into the stadium."
For Hanna, the surprise baby shower is just one of many examples of how his fellow Bills Season Ticket Members have become his second family.
Hanna and his crew – which consisted of five Season Ticket Members – sat next to each other at War Memorial Stadium and kept their seats together when the team relocated to Orchard Park.
"They were good friends," said Hanna. We started tailgating in '72."
Over the years, Hanna has enjoyed every minute of Bills game days – especially tailgating with his extended family. Arriving at 9 a.m., right when the parking lots open, Hanna's group brings food and simply spends quality time together.
"[I] just get there early and meet all of the people [which is the best part of game days at New Era Field]," he explained. "Everybody is so friendly."
From his all-time favorite Bills players quarterback Joe Ferguson, running back Fred Jackson and defensive tackle Kyle Williams to his current favorite LeSean McCoy, watching a variety of Bills take the field has become one of Hanna's preferred pastimes.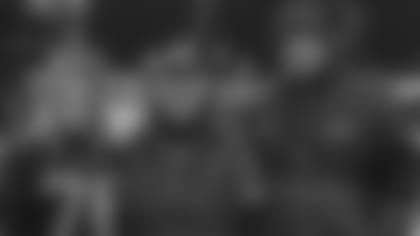 "Just the enjoyment of getting away and spending the day with my daughter and her friends [is what makes being a Bills fan so special]," he said. "I just enjoy it. The weather doesn't bother me."
The Buffalo Bills would like to thank Robert for his many years of being a loyal Bills Season Ticket Member and our Season Ticket Member of the Month. In addition to Robert being selected as a Season Ticket Member of the Month, he will receive a club seat upgrade an autographed item and select Bills merchandise.
If you would like to submit a nomination for a Bills Season Ticket Member of the Month, please fill out the form located here.