The 53-man roster that the Bills assembled on Saturday is bound to undergo a few tweaks and changes in the next couple of days in preparation for Week 1. On Sunday, one such move was made as TE Jason Croom was placed on injured reserve and the team re-signed S Kurt Coleman.
Croom's spring and summer had been marred by a severe hamstring injury. Originally sustained in the spring during the first week of OTAs, the tight end wasn't fit to return to action until training camp. Unfortunately, Croom re-injured the same hamstring the first day of camp and did not return to the practice field until the late stages of the preseason.
He appeared in the team's final preseason game, but the club made the determination that injured reserve was where Croom needed to begin the regular season.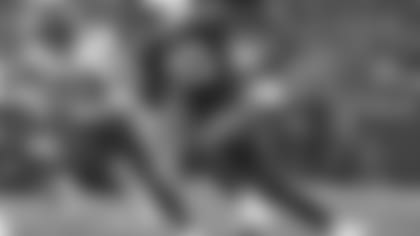 Taking Croom's open spot on the roster is veteran S Kurt Coleman. The nine-year veteran was initially signed by the Bills as training camp opened after Rafael Bush announced his retirement.
Coleman put together a strong camp and preseason and is expected to represent valuable depth at safety behind starters Micah Hyde and Jordan Poyer.
Scroll through to view photos and get to know Buffalo Bills players. Meet the 2019 Buffalo Bills is presented by WNY Dental.