It was no surprise that many of the fan questions this week surrounded the quarterback position with Josh Allen's injury and Derek Anderson's insertion into the starting lineup.
The expectations were wide ranging for Anderson and the predictions for Josh Allen's return to the lineup were as well.
We also dive into some percentages with former defensive coordinators in the league that are now head coaches and how many teams carry just two quarterbacks like the Bills did at the outset of the season.
1 – From @billsmafia1993: If DA plays well enough (like a Kyle Orton) during the next few games, would McDermott consider leaving him in the rest of the season and let Josh really heal up and learn (like the initial plan?)
CB: First, I don't know if it's fair to assume Derek Anderson is going to throw for over 300 yards in his first start like Orton did. In fairness, Orton had a six-week run up to his first start as opposed to Anderson, who will have all of 12 days.
But assuming he performs well, and the team wins some games, it's possible that Anderson stays in.
Allen's injury is a tricky one to figure because it's on his throwing arm. I don't think we'll get any kind of defined timetable other than the time when Allen goes from week to week to day to day.
The bottom line is there is no substitute for playing when it comes to gaining experience. There is a lot more the Bills would like Allen to learn in his rookie season, and watching from the sidelines won't accomplish that as effectively as playing would.
2 – From @Callytops: Hey Chris, if this Anderson experiment works then great. I'm gonna say I have my doubts with a vet that's only started 3 games in 7 years. Can you see any backup QB's (Bradford, Bridgewater, Foles) as a potential filler for the Bills of DA isn't the answer?
CB: I don't see any of the players you listed as viable options this year. The reason why is the Bills are not dealing from a position of strength, so they would have to overpay to get their hands on any one of them, maybe with the exception of Bradford, who struggled mightily in Arizona before getting benched.
Also knowing that Allen is the future at the position, acquiring Bridgewater or Foles would likely be a rental. Neither player would have much interest in staying in Buffalo after 2018 because Allen is where the biggest investment was made at the quarterback position.
I get the frustration of seeing the offense struggle with a rookie QB, but without more time on the field there is no way for Allen's game to progress at the rate that everyone would like to see. If Allen is playing he can be that much further ahead next year.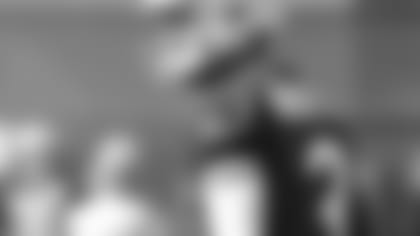 3 - From @bkubera: How many teams started the season with only 2 QBs on the roster?
CB: By my count there were 17 teams who began the season with two quarterbacks on their 53-man roster. That's the exact same number of teams whose initial 53-man roster had just two quarterbacks. So, it's much more common than you think.
4 – From @commish82: What is the % of former def. coordinators that are HC's in the NFL? Is that a problem for the Bills? Thinking of offensive struggles under Wade Phillips.
CB: The number of former defensive coordinators that are head coaches in the NFL is almost 41 percent. There are 13 former DCs who are now head coaches in the count I did.
No, I do not see it as a problem for the Bills. What matters most with respect to offense is who you hire to run it and who your quarterback is. With a rookie QB you're naturally going to be calling plays based on a young quarterback's ability to execute.
I don't think the comparison of the team's offensive struggles under Wade Phillips holds water because he was the head coach here 20 years ago. The offensive game has changed dramatically since then, so in terms of style of play, rule changes, etc. I don't know if trying to draw a parallel works.
5 – From @johnny_b_strong: Chris, will the Bills add via free agency or trade a receiver to help this year? It is so frustrating as a fan to see that nothing substantial appears to have been done to improve this position in 2 seasons now.
CB: Moves were made (Jordan Matthews, Kelvin Benjamin, Kaelin Clay, Rod Streater), but unfortunately none have panned out to truly upgrade the unit in a big way. This year there also has been the implementation of a new scheme, a new coordinator and a rookie QB.
The history of the league has shown us that those three changes coming in one offseason often require a bit more time for an offensive unit to gain traction.
I suppose a trade is possible, but there isn't much in the way of game changing talent in free agency now.
I think a big free agent acquisition at the position wouldn't happen until next offseason.