With not much on the line in Sunday's season finale against the Dolphins for Bills fans, they've naturally begun to look ahead to the offseason. That's why this week's line of questioning for the Fan Mailbag was dominated by theories on how to improve the roster in free agency and the 2019 draft.
Fans have pegged wide receiver and offensive line as areas of interest, and many are already doing their own scouting for potential fits. We examine some of those below.
1 - From @frayjay1: Do you see the bills attacking wr/tackle with 1st or are the BPA front office?
CB: I think it's safe to say that GM Brandon Beane is not one to reach just to fill a positional need. He would fall more under the Best Player Available approach, and knowing that there aren't going to be many offensive players at all in the top half of the first round according to early projections.
This is a top heavy defensive draft. Some early projections only have seven or eight offensive players coming off the board in round one total. It's an indication that the defensive talent is far and away superior to some of the best offensive talent this draft class has to offer.
I think there's a strong likelihood that the Bills spend some good free agent money on a WR and an OL. The kind of WR that Josh Allen can target 8-12 times every week, who is a reliable playmaker that can help right now. Same for an OL signing. A plug and play starter.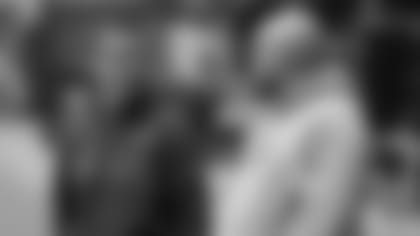 2 – From @EHLanded: Will Bills look for another VET QB to be on roster behind Allen and Barkley?
CB: I think if they do want to carry a third QB it would be Derek Anderson, who has expressed an interest in returning. Here's what offensive coordinator Brian Daboll had to say about Anderson on Thursday.
"D.A. has been a great addition to our football team for a variety of reasons," Daboll said of Anderson. "If that works out and that's what the organization chooses to do and what D.A. wants, he's been great.
"There's a lot of good conversation in that room. Both (Matt Barkley) and (Derek Anderson) have a good understanding of defense, a good understanding our system and there is good talk about protections, route schemes. There are no egos. Everyone is pulling in the same direction."
3 – From @papaboocheck: With reports of D-Jax wanting out of Tampa, and the need for a veteran WR. Do you see a fit there? Having shady possibly do some recruiting would help. Having speed like Djax would be nice for Allen
CB: Five years ago I'd have said yes, but DeSean Jackson is 32-years old now. Robert Foster has close to the same production as Jackson this season as an undrafted rookie. I suppose if you want a veteran role player and he's affordable you'd consider it. Buffalo still needs a true No. 1 WR.
4 – From @malden104: Thoughts on us losing our coordinators to HC positions?
CB: There's no way we can completely rule out the possibility of losing Leslie Frazier or Brian Daboll to a head coaching job offer because we don't know what GM might see them as a viable candidate to fill that role.
Frazier was an interview candidate last offseason in Indianapolis once Josh McDaniels turned down the Colts job. With the number two defense in football, logic would say he could get consideration.
While Frazier is certainly qualified, my thinking is that NFL owners looking to fill their head coaching post will be leaning toward young offensive minds from the college ranks in an effort to keep pace with the likes of the Rams, Chiefs and Saints.
Many owners believe the game has shifted toward offense. It's no coincidence that the top 10 scoring clubs in the league have all clinched or can clinch a playoff berth this weekend. Only five of the top 10 defenses could be playoff bound, and three of those are also among the top 10 scoring teams as well.
5 – From @bigrickgoblue: Will Bills address punter in off season, free agency or draft?
CB: Both rookie Corey Bojorquez and Cory Carter, whose seasons ended prematurely on injured reserve due to injury are under contract for 2019.
Carter was putting together a promising preseason before the ACL injury. Bojorquez was a player the Bills pursued in signing him off the New England practice squad. He was signed to a three-year contract with Buffalo.
The length of that commitment to a rookie punter alone, is strong indication that Bojorquez, who was holding his own as the punter when healthy, is seen as their answer at the position for the foreseeable future.