Each and every year, hundreds of players slip through the cracks of the NFL draft, their young careers seemingly in flux because their names were not called. Though being selected in the draft is a lifelong goal for many, not being chosen in the event does not signal the beginning of the end.
Throughout the 2018 campaign, Buffalo received significant contributions from its undrafted rookies, with two UDFAs finishing the season with starting roles.
Cornerback Levi Wallace and wide receiver Robert Foster headline the team's undrafted class, with both of their stories epitomizing the value of hard work and dedication. After spending the first nine weeks of his rookie campaign on Buffalo's practice squad, Wallace was promoted to the team's active roster ahead of their Week 10 matchup with the Jets. He played on 100 percent of the Bills' defensive snaps in his NFL debut, establishing himself as a reliable player who the team could count on in all situations.
"I think they just brought us in to just help the team," Buffalo cornerback Levi Wallace said of the contributions that he and his fellow undrafted rookies made throughout the 2018 season. "[The front office] does a great job of drafting here and bringing in undrafted guys."
Wallace started the final seven games of Buffalo's season opposite Tre'Davious White, totaling 37 tackles and three pass deflections. He finished his debut campaign as Pro Football Focus' highest-graded rookie cornerback, earning an overall grade of 83.5 from the outlet.
Foster's rookie season, while comparable to Wallace's in terms of on-field success, was far more dramatic than that of his former Alabama teammate. The wideout made Buffalo's 53-man roster out of training camp, with his dynamic speed being the largest factor in the team's decision to hold onto him. Foster, however, failed to make an immediate impact, catching just two passes for 30 yards over his first six appearances. After seeing a steady decrease in playing time, Foster was released after the team's Week 6 loss to the Texans.
It was a wakeup call for Foster. He realized that he was no longer in college, that his spot on the active roster was far from guaranteed. Once he returned to the team as a member of the practice squad, he showcased a new mentality, a previously-absent eagerness to grow as a player.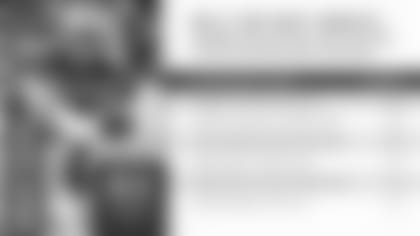 This improved work ethic eventually led Foster back to the active roster, as he started at wideout in the team's Week 10 matchup with the Jets. He reeled in three passes for 105 yards in the rout, becoming the first Buffalo receiver of the 2018 season to surpass the 100-yard mark in a single game.
Foster reeled in 25 passes for 511 yards and three touchdowns over the final seven games of the season, three of which he started. He developed into a bonafide deep threat for Buffalo, with his average reception going for 20 yards.
"He kind of came out of nowhere," veteran linebacker Lorenzo Alexander said of Foster during a recent appearance on One Bills Live. "Undrafted guy, got cut, brought back. I think that really shifted his perspective on what it meant to be an NFL player. He exploded the last six or seven games, kind of came out of nowhere. Almost ended up leading our team in receiving with six or seven games under his belt. I'm going to say he's the rookie of the year."
Though Foster and Wallace were the two undrafted rookies who emerged in the 2018 campaign, the Bills consistently received solid outings from several UDFAs throughout the season. Defensive end Mike Love and linebacker Corey Thompson saw considerable playing time in the final weeks of the season. Offensive lineman Ike Boettger was periodically rotated in at right guard in the second half of the year. Just days after being promoted from the practice squad, running back Keith Ford turned in a Week 15 performance in which he picked up 46 yards on 14 attempts.
The production that Buffalo got out of its undrafted free agent class not only led to on-field success, but it was also valuable to head coach Sean McDermott in determining which players will be around for the long haul.
"We've gotten a feel for them, more so than had we not played them," McDermott said. "I feel good about that, I feel good about some of what they've shown us to this point. As we close out the season, it will be, 'Okay, now let's evaluate the roster and see, does this player have a chance to become a starter? Does he have a chance to become a backup and provide important depth for us? Is he between backup and further south of that?' It's provided value for sure.
"As they come back for the spring, we know what we have in those players. It's sizably different than what it was last year, and then it goes back to, 'Okay, what are we going to do?' If that's the foundation, what do we have to add next to that guy? Or on top of that guy, or below that guy from the depth standpoint."
The success of Buffalo's undrafted rookie class demonstrates an idea that its front office and coaching staff often preach - that everyone is on a level playing field. Regardless of previous success, draft stock, or contractual standing, the Bills will play the players who make the most out of their opportunities.
"When we have the draft and the undrafted guys who stand up there and we honestly tell guys that, 'Listen, no matter where you were, if you were a first-round pick or you're undrafted, we're all even now,'" general manager Brandon Beane said. "You're going to get a chance, even if you aren't first in the rung or second, I promise you that you are going to get a chance."
"I think Robert [Foster] will be a poster child, Levi Wallace, some of these other guys that went undrafted. We truly care about who can help us win games."