1. How Marcellus Wiley hopes to inspire others with his new book
Bills Legend Marcellus Wiley has lived quite an accomplished life. From playing 10 seasons in the NFL, to a budding second career in media, Wiley is the product of hard work and determination. Recently, he checked another box on his list of goals when he became an author. Wiley's book "Never Shut Up: The Life, Opinions, and Unexpected Adventures of an NFL Outlier" just hit shelves.
Wiley will be at the New Era Cap headquarters in downtown Buffalo this Saturday, Nov. 3, for a book and cap signing. Located at 160 Delaware Ave in Buffalo, fans can stop by from 11 a.m. - 1 p.m. to visit with the Bills Legend and have a copy of his book or a New Era cap signed. Please note that outside memorabilia is not eligible to be signed.
When asked why he decided to share his story, Wiley's answer was simple.
"I wanted to inspire others. "Never Shut Up…" is about your essence, your training and [you] wanting to be something in this world and not letting others tell you who you have to be or try and tell you who you can and can't be," he said. "I was a kid that it could've went right for me, or it could've went wrong for me. As a fork in the road kid, someone with an adverse background, I wanted to make sure that everybody out there knows that if you persevere, you plan, if you make the right choices, things can work out for you because no one walked up to me and ordained me successful. No one said this is going to happen. I had to put in a lot of work and a lot of sacrifices. A lot of losses on top of a few wins and I just wanted to inspire others to take that challenge with themselves and design the life that they desire."
Although the piece discusses his football career, Wiley, a Compton, California, native, elaborated that it extends far beyond the gridiron.
"I wanted more than just a football book. I wanted more than just the scope of third-and-goal or a big game. I wanted the game of life and I wanted to inspire anyone – no matter if you're a football fan or not. Just someone who had a story of adversity who came from circumstances that didn't support success and they made it. And if I can make it from my situation, and I can live a peaceful, happy life and start checking off boxes on my goal sheet and bucket list, why can't you?
2. Levy adds another award to his legacy
Bills former head coach Marv Levy has received several honors over the course of career. Throughout his 12-year tenure with the Bills, Levy set records and solidified his place in Bills franchise history as the team's winningest coach, with 112 wins. His success on the field earned him the NFL Coach of the Year award in 1988 and the AFC Coach of the Year award in 1988, 1993 and 1995. The Bills Wall of Famer was also inducted to the Pro Football Hall of Fame in 2001 for his unwavering efforts. Levy added another prestigious honor to his repertoire recently, when he was named the 2019 recipient of the American Football Coaches Association's Amos Alonzo Stagg Award.
The annual award is presented to individuals "whose services have been outstanding in the advancement of the best interests in football," according to afca.com, making Levy a perfect match. 
"I am overwhelmingly complimented and honored to have my name added to the list of magnificent coaches who have so honored this game that we all revere," Levy said. "Many of them were heroes of mine way back many years ago when I was just an aspiring coach myself, and there are others who coached teams against whom my teams competed fiercely, but always played with great respect."
Levy will be presented the award during the 2019 AFCA Convention in San Antonio, Texas.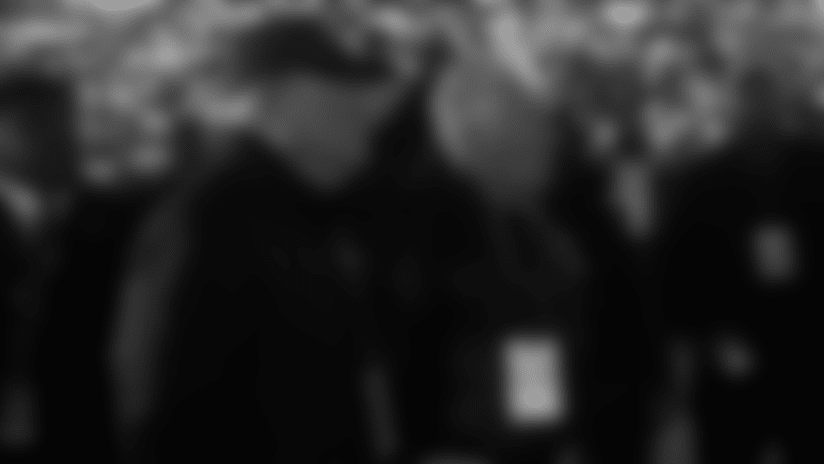 3. Bills former receiver among 2019 Black College Football Hall of Fame class
Bills former wide receiver Frank Lewis made history today he was named to the 2019 Black College Football Hall of Fame class (BCFHOF). The class, which includes Emerson Boozer, Hugh Douglas, Rich "Tombstone" Jackson, Timmy Newsome, John Taylor and Coach Arnett "Ace" Mumford, was voted on by a 12-member Selection Committee and will be celebrated at the 10th Annual Black College Football Hall of Fame Induction Ceremony on Feb. 16, 2019. 
Lewis, a Grambling State University product, was initially selected by the Pittsburgh Steelers in the first round of the 1971 NFL Draft and was then traded to the Bills in 1978 in exchange for tight end Paul Seymour. 
During his time with the Bills, Lewis was an important piece of the team's offense. His most productive season came in 1981 when he hauled in 70 receptions for 1244 yards and four touchdowns. The performance earned him a Pro Bowl nod. 
Lewis will join the likes of James 'Shack' Harris as the other Bills Legend and fellow Grambling alumnus to receive the honor.
4. Hyde's Halloween extravaganza
Bills safety Micah Hyde got into the Halloween Spirit this week, when he and his IMagINe for Youth Foundation hosted local kids from the United Way of Buffalo & Erie County for a night of thrills at Frightworld, America's Screampark. The Pro Bowl safety, along with some of his teammates including tight end Logan Thomas and cornerback Levi Wallace, went all out for the event, dressing up as zombies.
Things got spooky for Hyde and crew as they toured Frightworld's attractions and had several run-ins with "Tiny" the clown. The event is one of several that Hyde's foundation hosts each year in both the Western New York Community and his hometown Fostoria, Ohio.