Buffalo's offensive struggles this season have been well documented. From total offense to rushing offense to passing offense to scoring offense. All of it has languished near the bottom of the league for most of the season. One of the biggest culprits that has contributed to all those figures is the lack of efficiency on first down.
In their last two victories over the New York Jets and Jacksonville Jaguars however, Buffalo's offense has taken a big step forward in first down efficiency.
Through the team's first nine games, the Bills ranked last in the league in total net yards on first down. Their average gain on first down (3.66 yards/play) was also at the bottom of the NFL.
In the road win at New York their production on first down improved noticeably and was crucial in helping to stake Buffalo to a commanding 28-point lead at halftime en route to a 31-point win.
The Bills got out of the gate early with chunk plays on their first two plays for 47 and 28 yards, resulting in a two-play drive for a touchdown. Though their success on first down for the remainder of the opening quarter was a mix of positive plays and no gainers on runs and incompletions, they had 120 total net yards on just 10 first down plays in the opening frame.
By halftime they had rolled up 160 yards on just 18 first-down plays for a gaudy average of 8.88 yards per play. More than double their season average.
Trying to shorten the game and kill clock, the Bills ran it more against the Jets on first down in the second half and still gained 52 yards on 13 second-half first-down plays. All told, they averaged 6.83 yards per play on first down for the game, an encouraging development for their offense.
In this past Sunday's victory over Jacksonville however, Buffalo's efficiency on first down may have been the difference in the game.
"We've hit some good chunk plays down the field. Good throws, good protection, good catches, but not a whole lot different other than getting better, doing our job, executing our assignments." Offensive coordinator Brian Daboll
On 26 first down plays, counting a kneel down at the end of the game, the Bills gained 209 yards for an average of 8.03 yards per play, almost double what it had been to that point in the season (4.03).
"Good execution by the players," said offensive coordinator Brian Daboll. "We've hit some good chunk plays down the field. Good throws, good protection, good catches, but not a whole lot different other than getting better, doing our job, executing our assignments. The guys have done a good job with that lately."
Add in the 45 penalty yards that were assessed against Jacksonville on three of those 26 first down plays and the average gain on first down Sunday balloons to 9.76 yards per first down play.
In the first quarter, Buffalo's first down play was remarkably efficient. They gained 142 yards on just eight first down plays to average an eye-popping 17.75 yards per first down snap.
"I said before the Jets game that I thought our offense was really close," said Josh Allen. "It's showed the last two weeks what we're capable of doing."
Eight of Buffalo's nine-longest plays in the win over Jacksonville came on first down. All three of their touchdowns for six, 14 and 75 yards also came on first down.
If this trend continues, the Bills will find themselves ahead on the scoreboard more often, thereby improving the opportunities for Buffalo's defense to be aggressive when they take the field.
ADDITIONAL NOTEWORTHY NUMBERS FOR THE WEEK
18.3 air yards per attempt: Josh Allen averaged 18.3 yards per pass attempt in the win over Jacksonville on Sunday. It marked the highest air yards per attempt in the league over the last three seasons (minimum 14 attempts).
Though Allen had missed the last four games, he showed no signs of rust and demonstrated a good deal of trust in his receiving targets in the Week 12 victory.
"We have a lot of young guys and things are starting click and it's good to see that," said Allen. "We have to continue to keep this momentum going."
Ben Roethlisberger (16.9) and Ryan Fitzpatrick (16.1) previously held the top two spots dating back to 2016, with Deshaun Watson (15.7) right behind them from his rookie season of 2017.
1st in the NFL in pass defense: Going into the Jaguars game, Buffalo's pass defense was ranked first in the league. The Bills held serve in Sunday's win over Jacksonville. The Bills held Blake Bortles to just 12 completions and 127 yards passing and a garbage touchdown at the end of the game. The Bills also snatched two interceptions from Bortles in the game.
As a result, the Bills leapfrogged Jacksonville in passer rating against as a pass defense. Buffalo now ranks fourth in passer rating allowed as a defense holding opposing QBs to a mark of 84.2. The Jaguars slipped to fifth at 86.6. Only Chicago, Baltimore and Cleveland rank higher than Buffalo.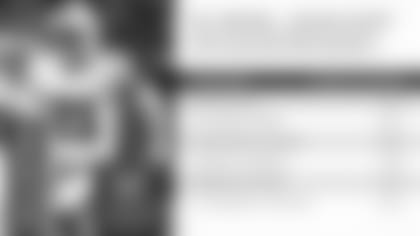 17 takeaways: Buffalo got off to a slow start when it came to logging takeaways, but that has changed of late. The Bills have five interceptions in their last three games. Matt Milano and Jordan Poyer each have two and Micah Hyde has the other. It has helped to move the Bills into the top 10 for total takeaways this season.
Buffalo has 17 takeaways on the season good for a tie for 10th most in the league. The Bills are on pace to exceed their 25 total takeaways in 2017.
41 percent: Buffalo's rookie quarterback has only appeared in seven games for the Bills this season, with just six starts, but Josh Allen has faced pressure a good deal when in the pocket. In fact, according to NFL Matchup on ESPN, when in the pocket, no one has faced more pressure than Allen.
The Bills QB is facing pressure on 41 percent of his drop backs when he is in the pocket. Houston's Deshaun Watson is second in that category (39.4%) with Arizona's Josh Rosen third (36.5%).