Even casual observers of the Bills know that their defense is solid. Knowing how much time Leslie Frazier's unit has had to spend on the field however, it is pretty remarkable to see where the team ranks in total defense.
Entering their bye in Week 11, the Bills hold the top spot in the league in total defense. Buffalo is allowing just over 300 yards per game (302.2) to rank number one in the NFL.
What makes that figure even more impressive is the fact that Buffalo's defense has been on the field for the sixth-most plays in the league. Only the defensive units for Cleveland, Kansas City, the Jets, New England, Cincinnati and Miami have been on the field for more plays than Buffalo's 611.
Those defensive units rank 18th, 25th, 26th, 29th, 31st and 32nd in the league in total defense.
"Coach [Leslie] Frazier and his staff have done a phenomenal job," said head coach Sean McDermott. "There's still a lot of work [that] remains, but the growth that they've undergone since those first two games in particular and the culture that they've started to build on that side of the football with the discipline and effort.
"You watch Lorenzo Alexander, to name just one play of his where [it was the] second to last play of the game and he's from one side of the field to the sideline and trying to make a play. That says a lot about who we are, what we're trying to do here and the leadership that I appreciate that Lorenzo brings to the table."
Buffalo also ranks second in the league in yards per play allowed (4.9) and they're also second in net yards gained per pass attempt (5.3). Only Baltimore, the number two defense in the league, is better than Buffalo in those two categories.
The Bills are also the only team that has played 10 games this season that ranks in the top 23 in first downs allowed with 187. Buffalo ranks 15th in that category, but every team in front of them has had a bye already and played just nine games.
The defense for the Bills also leads the league in forced fumbles with 16 and are tied for the league lead in tackles for loss with 60.
Finally, they're now second in the league for fewest yards allowed per offensive drive by their opponents at 25.9 yards this season.
Simply put, Buffalo's defense is killing it.
The last time the Bills had the number one defense in the league was 1999. The last time they finished first in the league in yards per play was 2004.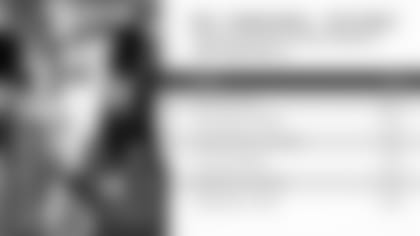 The Bills allowed less than 200 yards in consecutive games for the first time since 1999.
Buffalo's offense broke the longest active streak in the league of games without a 100-yard receiver at 19. Robert Foster had 105 yards receiving on three receptions Sunday. The last time was the Tampa Bay game last season when Deonte Thompson had 107 yards receiving.
LeSean McCoy surpassed 14,000 yards from scrimmage on Sunday with his 118 total yards against the Jets. He became the 36th player in NFL history to reach that plateau and the 22nd NFL running back to do so. McCoy now has 75 career games in which he's logged more than 100 total yards from scrimmage. Among active players, only Adrian Peterson has more (76).
McCoy with a pair of touchdowns and over 100 yards rushing Sunday accomplished that feat for the 10th time in his career. He and Peterson are the only active players to do that 10 times in their career as well.
Buffalo's feature back also reached 500 points scored for his career. He now has 504.
Matt Barkley's passer rating of 117.4 was the second best for a Bills QB in his first start with the team. Only Hall of Famer Jim Kelly fared better (119.8).
Buffalo's defense started Sunday's game by sending the Jets offense three and out on their first four possessions. After those four possessions, the Jets had nine total net yards of offense.
In the first half, the Bills defense held the Jets to 68 total net yards and without a third down conversion.
Sunday marked the first time that the Bills have started four quarterbacks since 1987.
Dion Dawkins touchdown catch marked the first time a Bills offensive lineman caught a touchdown pass since 2005 (Jason Peters).
Buffalo's offense put up 451 total yards. It was the highest total by a Bills team in the Sean McDermott era.
Saints quarterback Drew Brees completed 22 of 25 (88 percent) for 265 yards with three touchdowns and zero interceptions for a 150.4 passer rating and added a rushing touchdown in the win. Brees, who has 509 career touchdown passes, surpassed Pro Football Hall of Famer Brett Favre (508) for the second-most passing touchdowns in league annals. Only Peyton Manning (539) has more career touchdown passes.
Colts tight end Eric Ebron had three catches for 69 yards and two touchdowns and added a rushing touchdown in the victory. Ebron joined New England's Rob Gronkowski (two receiving, one rushing on December 4, 2011 vs. Indianapolis) as the only tight ends in NFL history to record at least two touchdown catches and one rushing touchdown in a single game.
Arizona wide receiver Larry Fitzgerald had six catches for 50 yards in the Cardinals' Week 10 loss at Kansas City. Fitzgerald has 15,952 career receiving yards and surpassed Pro Football Hall of Famer Terrell Owens (15,934) for the second-most receiving yards in NFL history. Only Pro Football Hall of Famer Jerry Rice (22,895) has more career receiving yards.