The math is pretty simple. In a game of points for and points allowed, the Bills have found themselves on the wrong side of the equation early through the first two weeks on both sides of the ball. It's nothing the players don't already know, but what has led to these insurmountable holes for the Bills to climb out of and post a win?
We know through two quarters in Week 1, Buffalo was down 26 points, having scored none of their own. Through two quarters in Week 2, the Bills managed a field goal, but surrendered 28 points for a 25-point deficit at halftime. That's a 9:1 scoring margin in the first half so far this season.
"You can't start that way in this league," McDermott said after Sunday's loss. "I thought defensively we didn't play well enough in the first half against a good offensive unit spotting them 28 points. I'm not saying we did it all to ourselves, but some of it we did. Offensively, we go three and out way too many times and special teams we can't gain field position. That's a bad recipe and that's tough to come back from."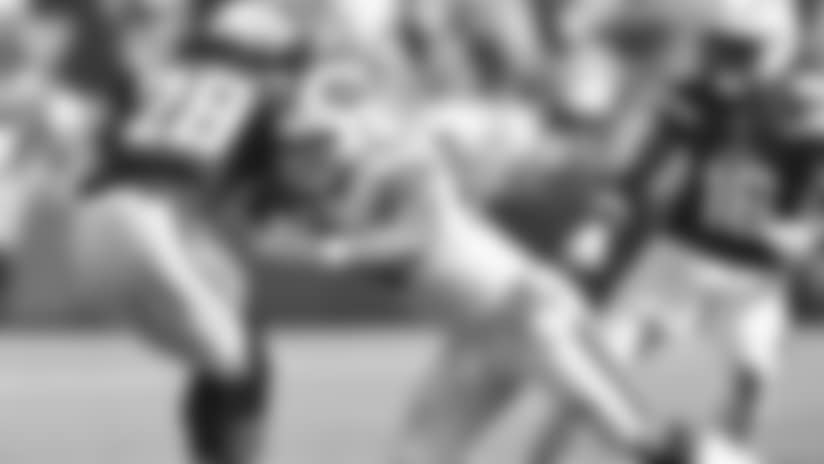 "In the first half we've had some miscues and it allows for big plays. That's what cost teams games in this league." Linebacker Lorenzo Alexander
For the defensive side of the ball, the big issue has been giving up chunk plays to the opponent in the first half. On first down, Buffalo's defense has given up an average of almost seven yards per play (6.8) including six plays of 20 yards or more. Second down defense has been about the same, allowing 7.2 yards per play to their opponent in the first half.
"In the first half we've had some miscues and it allows for big plays," said Lorenzo Alexander. "That's what cost teams games in this league. Whether guys are trying to do too much, or their eyes are bad or don't do what they're supposed to do. Just do your job. That's what it all comes down. Playing your keys."
Buffalo's defense was the unit that was expected to hold them in games early in the season knowing a young quarterback was going to be running things on offense.
"It seems like we can't get through their first 15 scripted plays," said Kyle Williams, in reference to their opponents' initial game plan at the beginning of games. "Some things they're doing to us… we're not adjusting too well. It takes us a while to get caught up and I feel we catch up and we can play pretty well."
"We settled down in the second half," said Jordan Poyer. "But by that time, it was too late."
"It puts a lot of pressure on the defense, those three and outs. ... We've got to put some points up and keep the game close." Wide receiver Kelvin Benjamin
Of course, the offensive players weren't freeing themselves from blame, knowing they've had a tough time sustaining drives early.
"We didn't get off to a great start and that's always going to hurt when you get down like that and you go three and out and you put your defense in some vulnerable situations," said Josh Allen. "There are a lot of lessons to learn from."
Diving deeper into the numbers we find that long down and distance is a big part of the problem on offense. On 13 first-half third down plays through two games, Buffalo has been in 3rd-and-7 or more 11 times. They do not have a single third down conversion in the first half this season (0-for-13)
"It puts a lot of pressure on the defense, those three and outs," said Kelvin Benjamin. "I feel like we worked on that, but we've got to look at it on film and correct the mistakes. We just put ourselves in a hole. We've got to put some points up and keep the game close. We've just got to make good on more of our chances."