1. Josh Allen puts in a historic rushing-passing performance
His running ability was fully on display against the Jacksonville Jaguars in Week 12, when he ran for just over 100 yards on just nine carries before a couple of kneel downs to salt away the clock in a 24-21 win left him with 99 yards rushing.
The Miami Dolphins felt they had a good plan for Bills QB Josh Allen, as they deployed LB Kiko Alonso as the spy to corral him if he took off to gain yards with his legs.
The only problem was Alonso couldn't catch him.
Neither could any other linebacker or safety for that matter.
Allen only ran nine times in Sunday's loss at Miami, but continuously escaped trouble in the pocket to pick up big chunks of yardage and keep Buffalo drives alive.
"You don't want to tell him to not go through his reads, but that's part of his progression really," said head coach Sean McDermott of Allen's runs in Sunday's game. "When he did it, when there wasn't separation (by receivers on routes) or when he had time to get out, he got out and used his legs."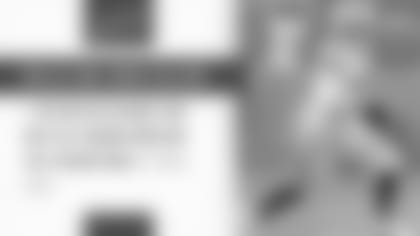 On the team's first scoring drive, he turned a 2nd-and-12 into a 3rd-and-3 on a nine-yard scramble. Three plays later on a 1st-and-10 at the Miami 29, he ran for another 11 yards to the 18. On a second-and-goal from the four-yard line, he took off again and scored, but it was called back on a holding penalty. Eventually he threw a touchdown pass to Zay Jones to cap that drive.
Allen scrambled for 27 more yards on the opening drive of the second half en route to a Stephen Hauschka field goal. He led off their second-touchdown drive to take the lead with a 28-yard scamper, leaving Alonso in his rearview mirror.
"It was if the first two reads aren't there and you're feeling pressure, find an opening and get out of there," said Allen of his approach against the Dolphins.
Once it became obvious that no Miami linebacker or safety could get an angle on him, Allen made sure to help get conversions with his legs.
Down four late in the game, he overcame a 2nd-and-20 following a holding penalty with a 25-yard run up the middle. Then he followed on the next play with a 26-yard run as he outflanked and out ran the Dolphins defense before going out of bounds at the Miami 24.
All told Allen had 135 yards rushing, a new team record, breaking his mark of 99 yards from the week before. CBS' statistical department reported that Allen is the first rookie quarterback to run for 90 yards or more in back-to-back games since Billy Kilmer did it with Washington in 1961.
It was evident he left an indelible impression on the Dolphins defense despite the loss.
"You saw it. I don't think I gotta to do too much talking," said Miami DE Robert Quinn of Allen's performance. "I don't know how much credit he gets on his elusiveness or speed, but that guy's got some talent over there. I think Buffalo got a nice little quarterback on their hands. Some stuff he did is really just uncoachable. Put us in a bind to the very last play. He's a pretty special kid. If he continues to grow, he's got all the arm talent. Just keep your eyes open, I guess."
Allen also became the fourth player in league history to throw at least two touchdown passes and run for 125 yards or more, joining Hall of Famer Walter Payton, Tobin Rote and Michael Vick.
"Very impressive," said Robert Foster of his quarterback. "It plays a big factor when we need somebody to make a play. He's an outright playmaker. That's what he did. He used his feet and his arm, and he made plays."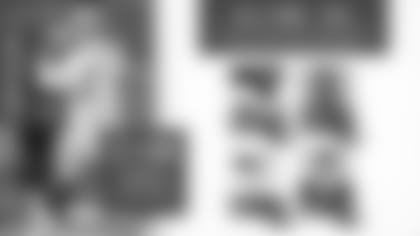 175 – Total net yards for Miami
415 – Total net yards for Buffalo
2.6 – Yards per carry by Miami
15.0 – Yards per carry by Josh Allen
8 – Number of plays for 20 yards or more by Buffalo
1 – Number of plays for 20 yards or more by Miami
40.9 – Dolphins red zone touchdown percentage this season (9-22)
100 – Dolphins red zone touchdown percentage Sunday (3-3)
4-0 – Bills win-loss record this season when they score first in a game
0-8 – Bills win-loss record this season when their opponent scores first
5-1 – Miami's record at home in 2018
1-5 – Miami's record on the road in 2018
0 – Miami's points off turnovers in last 10 games vs. Buffalo
7 – Miami's points off turnovers vs. Buffalo on Sunday
44.3 – Net punting average by Matt Darr
The New York Jets blew a 16-0 first-half lead losing on an 11-yard touchdown pass from Marcus Mariota to Cory Davis with 36 seconds left in regulation to lift the Tennessee Titans to a 26-22 come from behind victory. The Jets fell to 3-9 on the season.
New England squandered an early 10-0 lead in their Week 13 matchup with Minnesota, but Tom Brady broke the tie with a touchdown pass to Josh Gordon in the third quarter as the Patriots scored the last 14 points of the game in a 24-10 win over the Vikings. With the win the Patriots improved to 9-3.
"It's not (the coaches') fault. We're grown men and get paid king money to play a kid's game. We have to go out there and execute our job. All week they gave us the best game plan and we didn't go out there and execute it to the end."
--Jets S Jamal Adams following loss to Tennessee
"I thought our defense played really well. They made some big plays and did a good job of keeping the score down. We had some chances on offense, but I turned the ball over on that fumble. That was a crucial play in the game. I have to find a way to come away with that one. But I was proud of our guys' fight."
--Lions QB Matthew Stafford on 30-16 loss to the L.A. Rams